KTM Bike Ride Dubai - KTM Enduro / DIRT Bike Tour
The Enduro KTM Bike Ride in the Dubai desert promises an adrenaline-fueled experience, where riders can conquer rugged terrains and dunes while soaking in the breathtaking desert scenery.
+971551532550
Desert KTM Motorbike Motocross Tours / KTM Enduro Adventure Dubai
Latest KTM 450cc 2022-2023 model
Join us and experience the Desert Motocross in Dubai and get the incredible feelings, traveling by a motorcycle of your dream.
If you are eager to spend your vacation active and outdoors, and get a lot of crazy emotions,  our company can offer you excellent services of KTM Desert Motocross Tours in Dubai and you are sure to have an unforgettable experience.
According to your experience, different KTM Desert Motocross Tour options in Dubai can be offered:
The KTM Bike Ride Dubai offers an exhilarating and unique way to explore the stunning desert landscapes and urban wonders of this dynamic city. As you hop onto a powerful KTM motorbike, you'll embark on an adventure that combines the thrill of riding with the beauty of Dubai's natural surroundings. Whether you're a seasoned rider seeking adrenaline-pumping KTM Motocross Tours or a casual explorer looking for a scenic KTM Desert Motorbike Tour, there's an option for everyone. The experience allows you to feel the rush of the desert wind on your face as you traverse sandy dunes and experience the awe-inspiring terrain of Dubai's outskirts. It's an adventure that merges the best of modern engineering with the timeless allure of the desert, promising unforgettable memories for all who dare to take the KTM Bike Ride Dubai.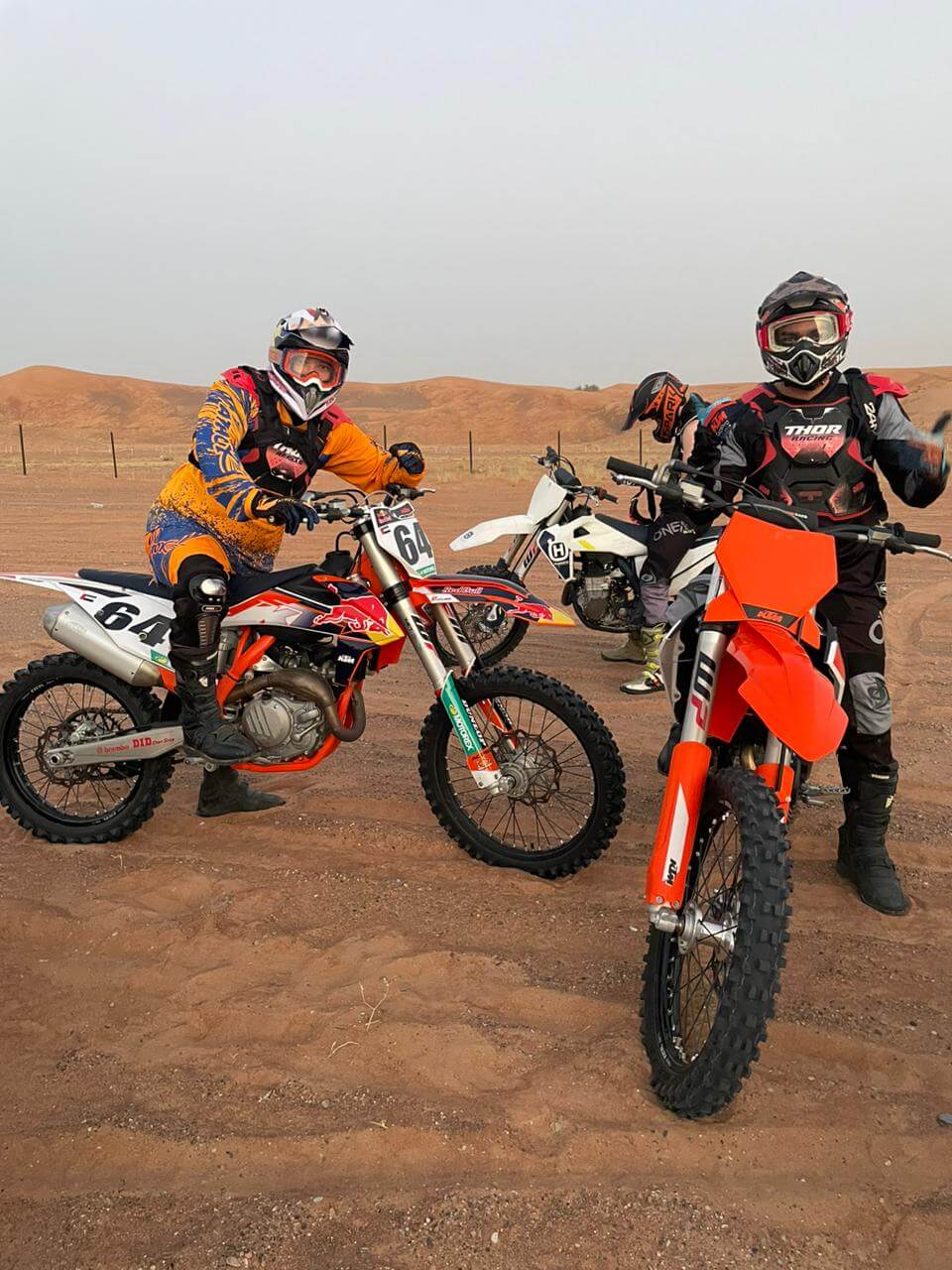 Adventure Tour for Beginners is a 2 hours motorbike desert tour for riders with basic experience. During the tour a rider will be accompanied by a highly-skilled instructor.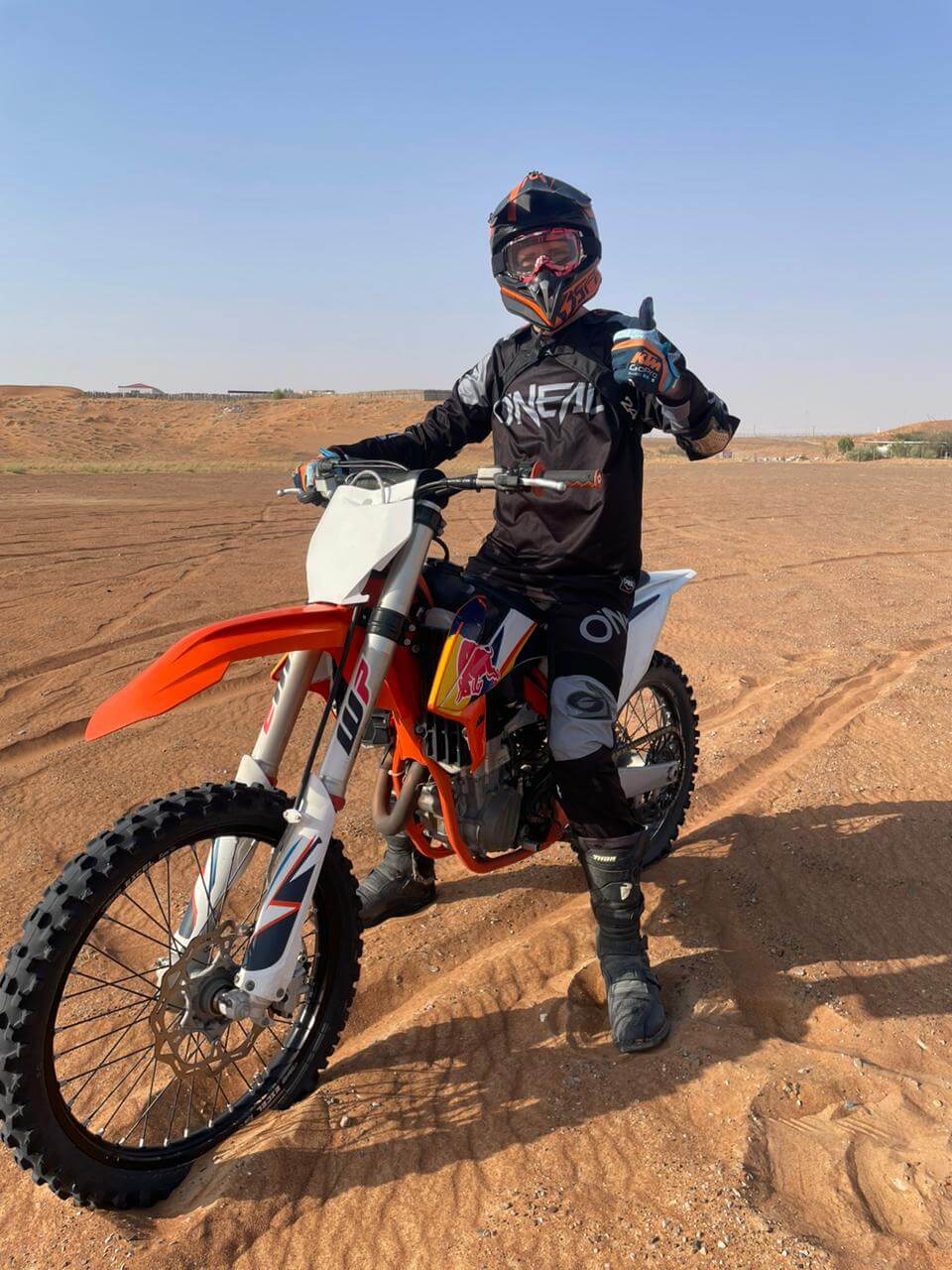 Adventure Tour Advanced is 4 Hours Motorbike Desert Tour for those who have advanced motorbike experience. This tour also includes an experienced instructor.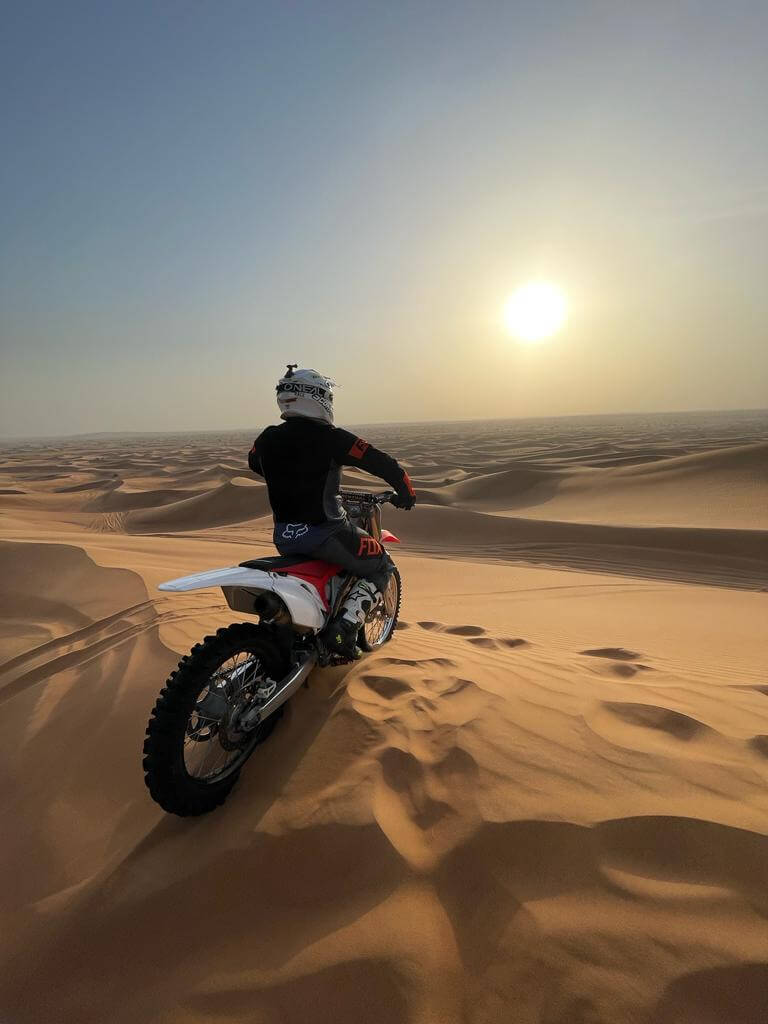 2 Days Adverntures across the UAE Tour
Custom Tours for a minimum of 3 riders. We will plan a custom tour only for you up to 2 days.
Our company specializes in guided Tours on KTM Enduro (450cc 2022 – 2023 Model) Motocross bikes in Dubai and we know about them inside and out and can say with certainty that our motorcycles are impeccably maintained and always in excellent working conditions. We also care about safety of our customers, providing them with special modern equipment, that will protect them from head to toe. So if you are looking for the best services of Motocross Rental in Dubai, we are glad to help you!