SUNSET Desert Safari DUBAI
Experience the mesmerizing beauty of the Dubai desert with an unforgettable Evening Sunset Desert Safari, with your family, where the Evening Sand Dune Safari Tour takes you on a thrilling Dubai Evening Adventure Tour.
+971551532550
Twilight Tranquility: Exploring the Dubai Deserts at Dusk in Sunset Desert Safari

Discover the Magic of the Desert at Dusk
As the sun gracefully sets below the Dubai Desert horizon, it bathes the landscape in a warm, golden glow, ushering in an enchanting adventure. Join us for an exploration of this mesmerizing terrain in our "Exploring Dubai's Wilderness at Twilight" experience.
A Serene Transformation
As daylight fades, the desert comes alive with an unparalleled serene beauty. The cool evening breeze carries tranquility, and the sands take on a mesmerizing, almost magical quality under the soft, diffused light of the setting sun.
Thrills in the Dunes
Our evening sunset desert safari adventure promises a thrilling ride through the dunes. Experience the exhilaration of dune bashing and witness the sandy landscape's transformation as the last rays of sunlight dance upon the sand. The colors shift from fiery reds and oranges to cool blues and purples, creating a breathtaking spectacle.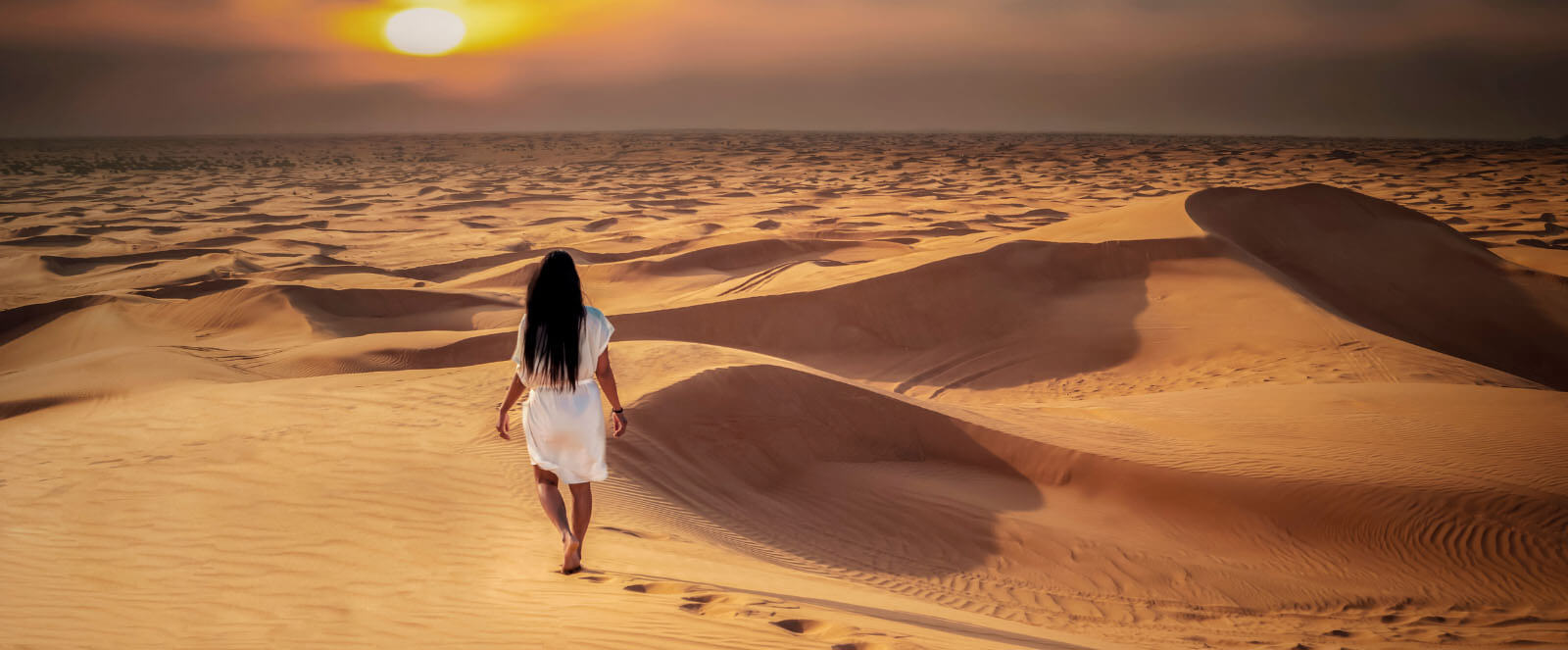 Stargazing Under Desert Skies
The adventure continues as darkness falls. Experience stargazing in the clear skies, far from city light pollution. Witness constellations come to life like never before as our knowledgeable guides share the secrets of the celestial world.
Sunset in the Dubai Desert
As the scorching sun descends gracefully, the UAE's sand dunes becomes a canvas of breathtaking beauty. The evening sky ignites with hues of burnt orange, deep crimson, and rich gold, captivating all who witness it.
An Ethereal Landscape
The once scorching sand dunes now cool under twilight's gentle touch. The undulating landscape, bathed in soft, golden light, casts graceful shadows across the sand floor.
Savoring Twilight Moments
To fully savor this enchanting moment, many travelers embark on a off road safari, offering an intimate connection with the natural world. Whether you seek reflection, romance, or adventure, Dubai's sand dunes at twilight offers an unforgettable experience.
Arabian Evening Desert Tours
Of course, no sunset desert safari is complete without indulging in a sumptuous Arabian feast at our traditional desert camp. Savor Middle Eastern flavors with a delicious BBQ dinner, complemented by live entertainment, henna painting, and more.
Evening Sunset Desert Safari
Adventure Package

Heart-Pounding Thrills
Venture into the expansive sand dunes with your heart racing. After deflating the tires and fastening seatbelts, trust our skilled dune driver to guide you. Experience the low hum of the land cruiser's engine, reminiscent of a jetliner taking off, while swirling sand creates a visual symphony.
Adrenaline-Pumping Moments
As the vehicle sways like a boat on a tempestuous sea, your head occasionally touches the vehicle's roof. Suddenly, you face a nearly vertical ascent of 75 to 80 degrees on the thick sand, followed by an exhilarating 90-degree slope descent.
Teetering on the Edge
The vehicle eventually halts on a sandy precipice, causing your four-wheel drive to teeter at its midpoint. This adrenaline rush offers a unique test of courage and adventure.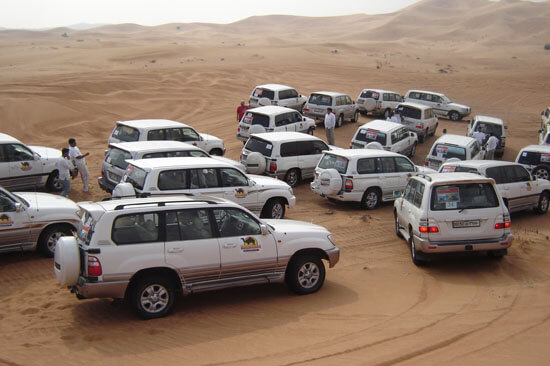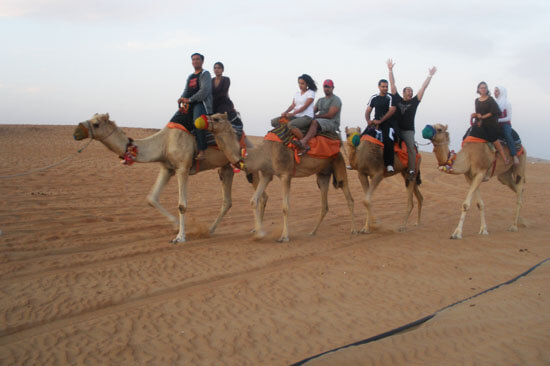 Evening Sunset Desert Safari Tour Schedule
Pick-up by 4×4 wheels drive between 3:15 pm and 4:00 pm from any point in Dubai and/or Sharjah.
Drive through the sand dunes along Al Awir Road (20-30 minutes).
Dune driving, sunset photography, camel rides, belly dancing, bar, henna painting, shisha, Arabic coffee, photography in traditional costumes, unlimited beverages, buffet dinner, and BBQ in the camp.
Departure to the hotel at 9:30 pm.
Sand skiing (not included)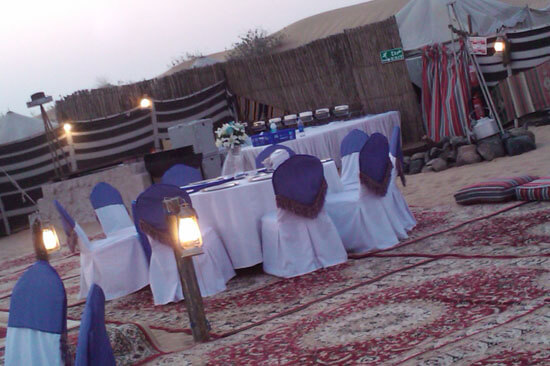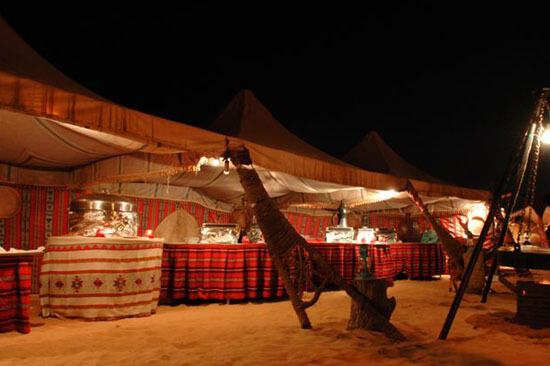 Inclusivity and Safety
Our tours are open to all, whether you're solo or with a group. Please note that this experience is not recommended for children below 3 years, pregnant women, or the elderly.
Essential Guidelines
When embarking on a adventure safari, carry a camera, dress comfortably, and leave behind jewelry and expensive accessories. Enjoy delightful Arabic coffee at our camp and join the excitement as our belly dancer showcases their skills.
Sand Skiing Thrills
Sand skiing is a highlight during our safaris. Glide down the tallest dunes on specialized boards, knowing the soft sand cushions your landing.
Camel Trekking Adventure
Embark on a beloved camel trek, relishing the sunset as you journey toward our camp. Explore the unique ecosystem in the wilderness and witness the intriguing insect life that calls the sands home.
Safety Considerations
Our skilled, licensed drivers have extensive first-aid training, and our vehicles feature roll cages for added safety. Seat belts are provided for every passenger, and we exclusively use 4×4 Land Cruisers for our safaris. You're covered by insurance from the moment you step into our vehicles, ensuring peace of mind throughout the adventure.
Pick up and Drop off Service
Enjoy the convenience of our hassle-free transportation service! Whether you're arriving at the airport, your residence, or your hotel, we've got you covered. Our dedicated team is here to ensure your journey is comfortable and seamless from start to finish.
Airport Pick-Up and Drop-Off:
When you land at the airport, our professional driver will be there to greet you. Look for our welcoming sign with your name on it. We understand the importance of a smooth arrival after a long flight, so we'll assist you with your luggage and provide a comfortable, air-conditioned ride to your destination.
When it's time to depart, we'll pick you up from your hotel or location and ensure you reach the airport in plenty of time for your flight. Our punctual service means you won't have to worry about missing your departure.
Hotel and Residence Transfers:
If you're staying at a hotel or residing in the area, our team will pick you up right at your doorstep. We understand that convenience is key, and we're committed to making your journey as stress-free as possible. Our comfortable vehicles will transport you to your desired destination in style and comfort.
What sets us apart is our dedication to ensuring you have a reliable, safe, and enjoyable experience. Whether it's a quick airport transfer or a ride to your hotel or residence, our professional drivers and well-maintained vehicles are at your service. We prioritize your comfort and peace of mind, making us your go-to choice for transportation needs.
Sit back, relax, and let us take care of the transportation logistics. Your journey begins and ends with us, ensuring you have a smooth and enjoyable experience. Travel with confidence, knowing you can rely on us for all your pick-up and drop-off needs.
Book your Sunset Desert Safari
Whether it's a birthday celebration, a reunion, or just a day of fun, our Half Day Adventure promises a perfect blend of excitement, relaxation, and togetherness. Book your adventure today and make memories that will last a lifetime!