Desert Safari Dubai Packages
Desert Safari Dubai / Adventure Tour / Sand Dune 4×4 offroad family trip / Morning, Evening and Overnight / Red Dune Bashing
+971551532550
Sand Dune Adventure Safari Tour Dubai
An experience of one of a kind. Exhilarating to the core. Scream out as you have never screamed in your life as you hit the roof of the vehicle as it races through the dunes. Climbing an 80 degree slant upwards and before you realize you will be going downhill almost 90 degrees. You will have a chance to value the agility and the balance of a 4×4 vehicle to your utter amazement.
At the climax of the dune range the vehicle will be stopped to give you the chance to get down and feel the sand and the dunes and to photo shoot so that you can share your experience with your loved ones back home. A life time experience to the true sense of the word! As you come down on your way towards the camel farm, you will see Bedouins among the Red Dunes leading droves of camels in their natural habitat and also small groups of donkeys taking you to a time in the past bygone eras when man lived in the sand.
Desert Safari Adventure Tour Packages
A visit to the camel farm is also fascinating. The camel farm you are visiting is one of the largest camel farms in the country. There is of course also the possibility of taking photos with camels and/or baby camels under the supervision of a Bedouin.
After the dune bashing adventure in the Red Dunes you will be enjoying your evening observing the sunset in one of our desert camps in the ambience of traditional Arab hospitality. Let your soul enjoy the delights of the Arab world. Sit back and enjoy the experience of traditional sheesa (Hubly-Bubbly) smoking and the traditional Belly Dance, a breathtaking dance of an Arab beauty while treating yourself with a wide array of food served out of an authentic desert BBQ.  Henna Painting for ladies and for gents a chance to take a photo with a falcon in the traditional Arab dress.
For the most adventurous ones who still feel energetic there is much more! All these sports activities will be supervised by our guides and are available for advice and questions.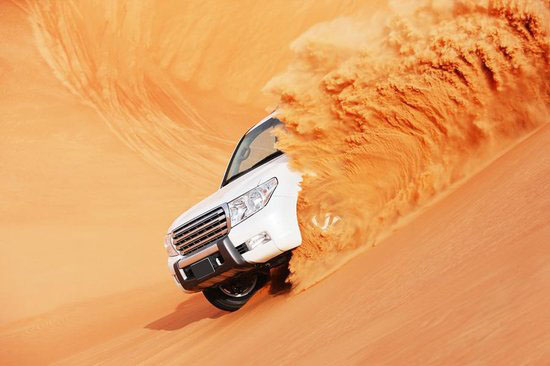 Desert Safari Dubai Packages:
Belly Dance:
It is treat for any one visiting UAE.you will experience a thrilling drive in the sand dunes and enjoy a great dinner and live belly dance in a desert
Timing 9:00 am to 11:00 am
Includes : Dune Bashing, Quad Biking, Camel ride, sand ski etc.
Timing : 3:00 pm to 9:00 pm
Includes : Dune Bashing, Quad Biking, Camel ride, sand ski etc.
Timing : 4.00 pm to 09.00 pm
Includes : Dune Bashing, BBQ dinner, Belly Dancing, Sand Ski, Shisha, Overnight stay at the camp, etc.
Timing : 7:00 pm to 10:00 pm
Includes : BBQ dinner, Belly Dancing, Sand Ski, Shisha, Henna Paintings, etc.
Timing : 4:00 pm to 10:00 pm
Includes : Dune Bashing, BBQ dinner, Belly Dancing, Sand Ski, Shisha, Sun Set Photography etc.
For more info about Desert Safari Dubai Packages or bookings
Reliable Airport, Residence, and Hotel Pick-Up and Drop-Off Services
Traveling can be an exciting adventure, whether it's for business or leisure. However, the logistics of getting to and from the airport or your accommodation can sometimes be a stressful aspect of your journey. That's where our pick-up and drop-off services come in to make your travel experience smoother, more convenient, and stress-free.
Airport Pick-Up and Drop-Off:
Arriving at the airport on time and without hassle is crucial. Our airport pick-up service ensures that a professional driver will be there to greet you upon arrival, helping you with your luggage and guiding you to a comfortable, well-maintained vehicle. Whether you're a solo traveler, part of a group, or a family with children, our vehicles are equipped to accommodate your needs. No more worrying about navigating unfamiliar roads or hunting for parking at the airport; we'll handle all the details so you can focus on your journey ahead.
When it's time to depart, our airport drop-off service ensures that you arrive at the terminal with plenty of time to spare. Our drivers are well-versed in airport logistics and will drop you off at the right terminal, making your departure a breeze. Forget about the stress of traffic or parking, and rest assured that we'll get you there safely and punctually.
Residence and Hotel Pick-Up and Drop-Off:
Whether you're arriving at your residence or checking in at a hotel, we understand the importance of a smooth transition. Our services extend beyond the airport, offering pick-up and drop-off options for various accommodations. Whether you're new to the area or simply want a hassle-free experience, our drivers will ensure that you reach your destination comfortably and on time.
If you're heading to a residence, our drivers will navigate the local streets to get you there efficiently. For hotel drop-offs, our familiarity with the area ensures that you arrive at the right entrance, making your check-in process a breeze. Our services cater to individuals, families, and groups, and our fleet includes a range of vehicles to accommodate your specific needs.
Why Choose Us:
Professionalism: Our drivers are experienced, licensed, and dedicated to providing exceptional service.
Safety: We prioritize your safety and follow strict safety protocols to ensure a secure journey.
Punctuality: We understand the importance of timeliness and strive to get you to your destination on schedule.
Comfort: Our vehicles are clean, well-maintained, and equipped with amenities to enhance your comfort during the journey.
Convenience: Let us take care of the logistics so you can focus on enjoying your trip.
Whether you're a frequent traveler or visiting a new destination for the first time, our pick-up and drop-off services are designed to simplify your travel experience. Sit back, relax, and let us handle the transportation details, ensuring a stress-free and enjoyable journey from the moment you arrive at the airport to your final destination at your residence or hotel.