Enduro Motorcycles - KTM Dirt Bike Desert Tour Dubai
The Enduro Motorcycles & Dirt Bikes Bike Ride in the Dubai desert promises an adrenaline-fueled experience, where riders can conquer rugged terrains and dunes while soaking in the breathtaking desert scenery.
+971551532550
Enduro Motorcycles Dirt Bike Ride Dubai
Dirt bikes are specially designed off-road machines that excel in navigating challenging terrains and rugged trails, offering riders the thrill of adventure in the great outdoors.
Unveiling the Future: Our Latest KTM Enduro Motorcycles Models 2022-2023
Introducing our latest KTM lineup for the 2022-2023 season, where innovation meets adrenaline. Our commitment to delivering top-notch performance and cutting-edge technology has never been stronger, and these new models are a testament to our dedication to the world of motorcycling.
For those who crave the ultimate off-road experience, our 2022-2023 KTM dirt bikes have been meticulously engineered to tackle any terrain. With enhanced suspension, improved handling, and more powerful engines, these bikes are ready to conquer the most challenging trails and tracks. Whether you're a seasoned rider or a newcomer to the world of dirt biking, our KTM lineup has something to offer everyone.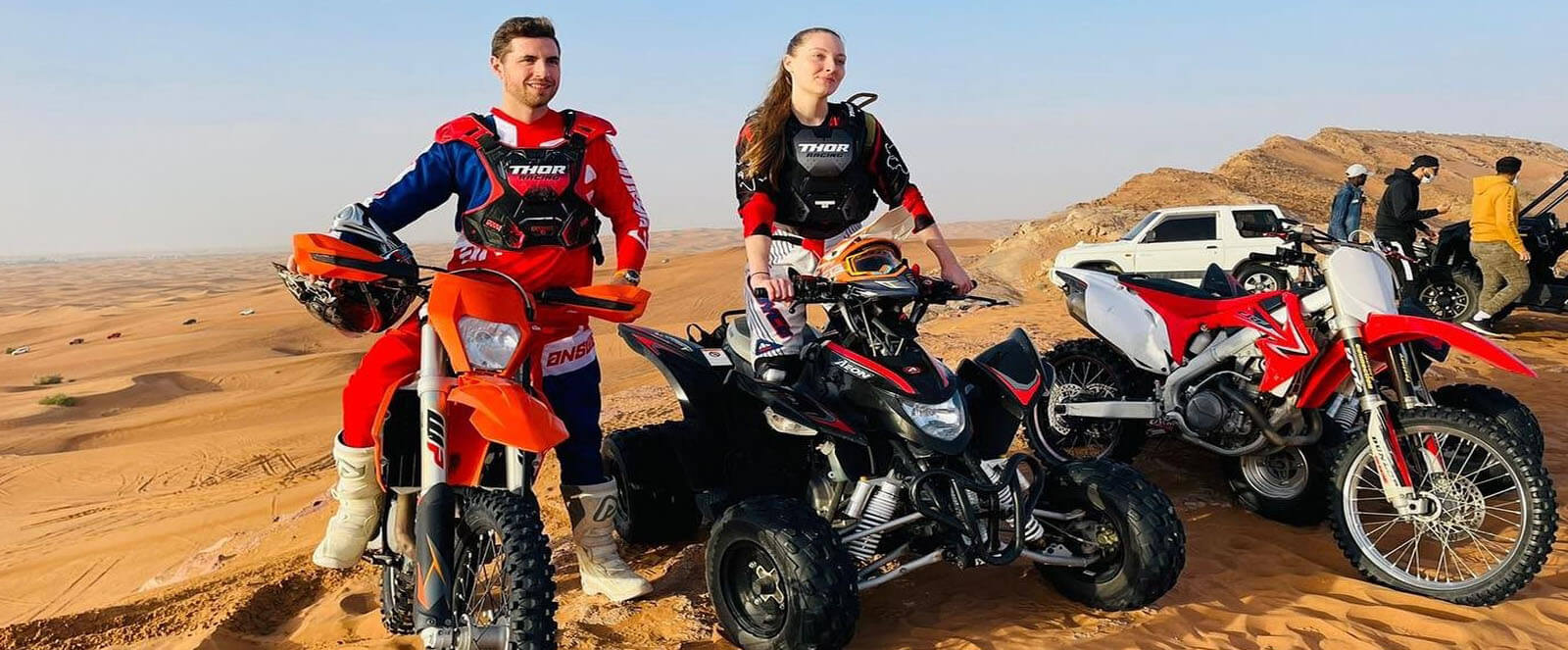 Dubai, with its stunning landscapes and awe-inspiring terrain, provides the perfect backdrop for an unforgettable tour. And what better way to embark on this journey of discovery than on a KTM tour designed especially for beginners? If you're a newcomer to the world of off-road riding or seeking an exhilarating experience, read on to learn more about this thrilling opportunity.
Our KTM Safari Tour for beginners is tailored to individuals with limited or no off-road riding experience. It's the ideal way to kickstart your desert safari riding journey while exploring Dubai's breathtaking natural beauty.
Learn and Grow:
For beginners, this tour isn't just about adventure; it's a learning opportunity. You'll receive hands-on instruction, tips, and techniques from our guides, helping you build confidence and skills as you go. It's an experience that can transform you from a novice rider to a capable adventurer.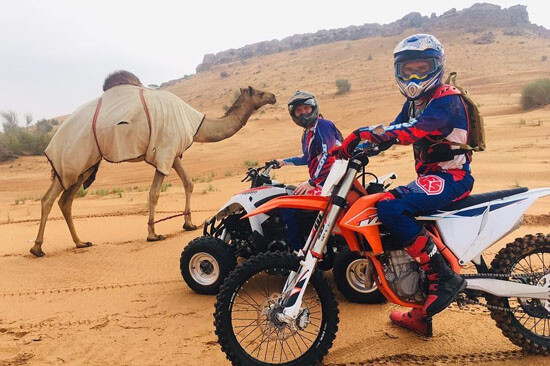 For those seeking the next level of excitement and challenge, our Advanced Dirt Bike Adventure Tours are designed to quench your thirst for adrenaline and exploration. Step up your off-road riding game and conquer even the most demanding terrains on a journey that promises unforgettable experiences.
Elevate Your Skills:
Our Advanced Dirt Bike Adventure Tours are tailored for riders with prior off-road experience and a hunger for more challenging terrain. This is your opportunity to hone your skills, tackle technical trails, and push the limits of what you thought possible on two wheels.
High-Performance Equipment:
At the heart of every great adventure is a reliable machine. We provide you with top-of-the-line dirt bikes, including advanced models from renowned brands, ensuring that you have the power and precision needed to tackle rugged landscapes with confidence.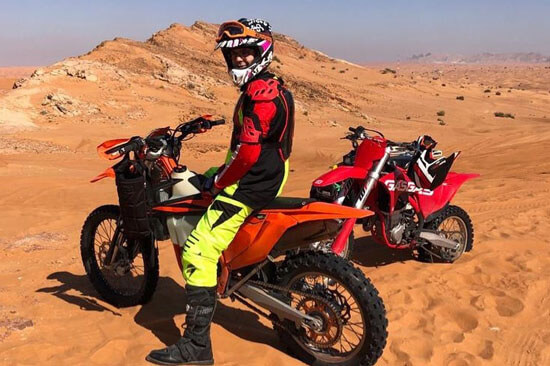 Experience Dubai like never before with our Custom Motorbike Tours, where you have the freedom to design your own two-wheeled desert trip. Whether you're a seasoned rider or new to the world of motorcycling, this personalized experience allows you to explore Dubai's wonders on your terms.
Tailored to Your Desires:
Our Custom Motorbike Tours are all about you. You get to decide the duration, destinations, and the type of experience you're seeking. Whether it's a thrilling desert excursion, a scenic coastal ride, or an urban exploration, we'll make it happen.
Your Choice of Ride:
Choose from a range of high-performance motorcycles to suit your style and preferences. Whether you prefer the power of a superbike, the versatility of an adventure bike, or the classic charm of a cruiser, we have the perfect ride waiting for you.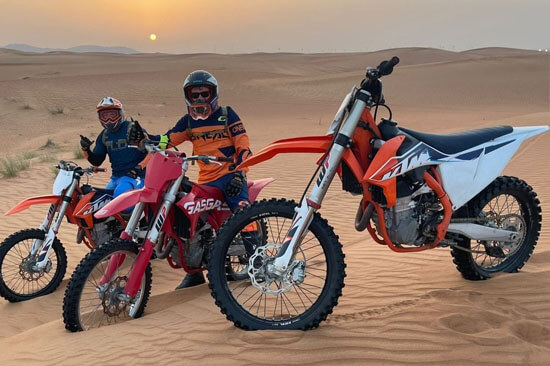 Unleash Your Inner Adventurer with the Husqvarna Enduro Motorcycle
Embark on an epic journey of off-road exploration and adventure with the Husqvarna Enduro motorcycle. Husqvarna, a legendary name in the world of motorcycling, has a rich heritage of crafting high-performance machines, and their Enduro lineup is no exception.
The Husqvarna Enduro motorcycles are engineered to dominate any terrain with their powerful engines and exceptional handling. Whether you're conquering rocky trails, navigating through dense forests, or tackling challenging dirt tracks, these bikes are designed to deliver outstanding performance. The combination of lightweight frames, responsive suspension systems, and potent engines ensures that you stay in control while pushing the limits of what's possible.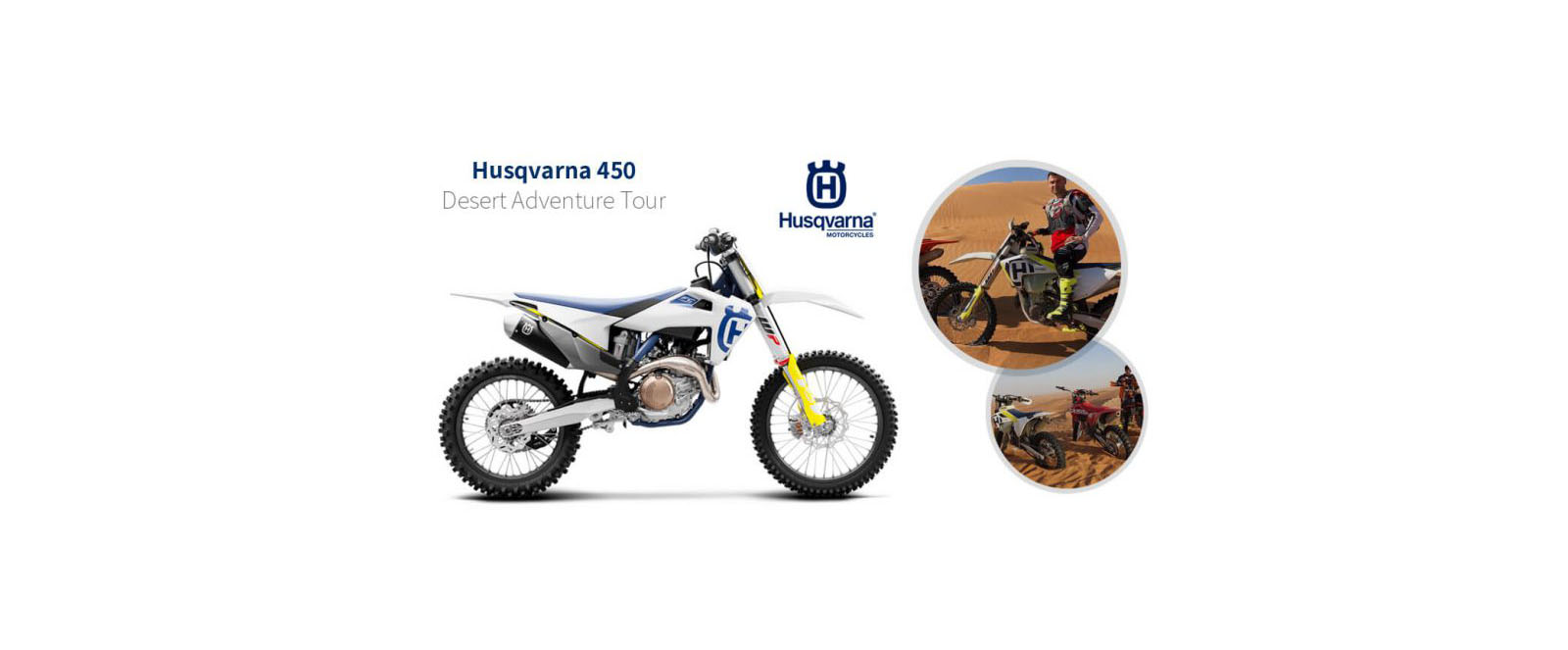 GasGas Enduro Motorcycles: Where Passion Meets Adventure
In the world of off-road motorcycling, GasGas has established itself as a brand synonymous with passion, precision, and the pursuit of adventure. The GasGas Enduro motorcycle lineup, with its distinct character and unwavering commitment to performance, offers riders a thrilling journey into the heart of the wild.
GasGas motorcycles are meticulously engineered to excel in the most demanding terrains. These bikes boast powerful engines, cutting-edge suspension systems, and lightweight frames, making them agile and responsive in the face of challenging trails. Whether you're navigating rocky paths, conquering steep inclines, or tearing through the woods, GasGas delivers a performance that's truly exhilarating.
Experience the perfect blend of passion and adventure with GasGas Enduro motorcycles. Whether you're a seasoned off-road enthusiast or a newcomer eager to explore the world of Enduro riding, these bikes are your gateway to unforgettable experiences and untamed landscapes. Embrace the call of the wild with GasGas and let your tour begin.