Dirt Bike Adventure Tour Advanced – Desert Dirt bike Ride Dubai
In the heart of Dubai's exhilarating landscapes, the Dirt Bike Adventure Tour for advanced riders offers an adrenaline-charged experience through challenging terrain.
+971551532550
Dirt Bike Adventure – For Advanced Riders

Shred the Trails: Dubai's Desert Dirt Bike Odyssey
Experience the exhilarating Dubai's Desert Dirt Bike Odyssey, where the thrill of adventure meets the power of KTM, Husqvarna, and GasGas enduro bikes. This extraordinary journey invites you to explore the mesmerizing Arabian deserts in style.
Our fleet of top-tier enduro bikes, featuring the renowned Husqvarna, KTM and GasGas brands, ensures a ride like no other. Designed to conquer the challenging rough terrain, these bikes provide unmatched performance and control, allowing riders of all skill levels to confidently navigate the dunes.
Guided by experienced professionals who know the desert's secrets, you'll embark on an unforgettable journey. Discover the hidden treasures of the wilderness, learn about its rich history, and witness its breathtaking beauty as you ride through its ever-changing landscapes.
As the sun sets over the dunes, the adventure continues with a magical desert night. Gather around the campfire, savor traditional Arabian cuisine, and gaze at the starlit sky, creating memories that will last a lifetime.
Dubai's sand dunes Dirt Bike Odyssey is more than just an adventure; it's an immersive experience that connects you with the spirit of exploration and the awe-inspiring beauty of the nature. Join us for an unforgettable off-road journey through the heart of Dubai's enchanting landscapes, powered by the best in the business – KTM, Husqvarna, and GasGas enduro bikes.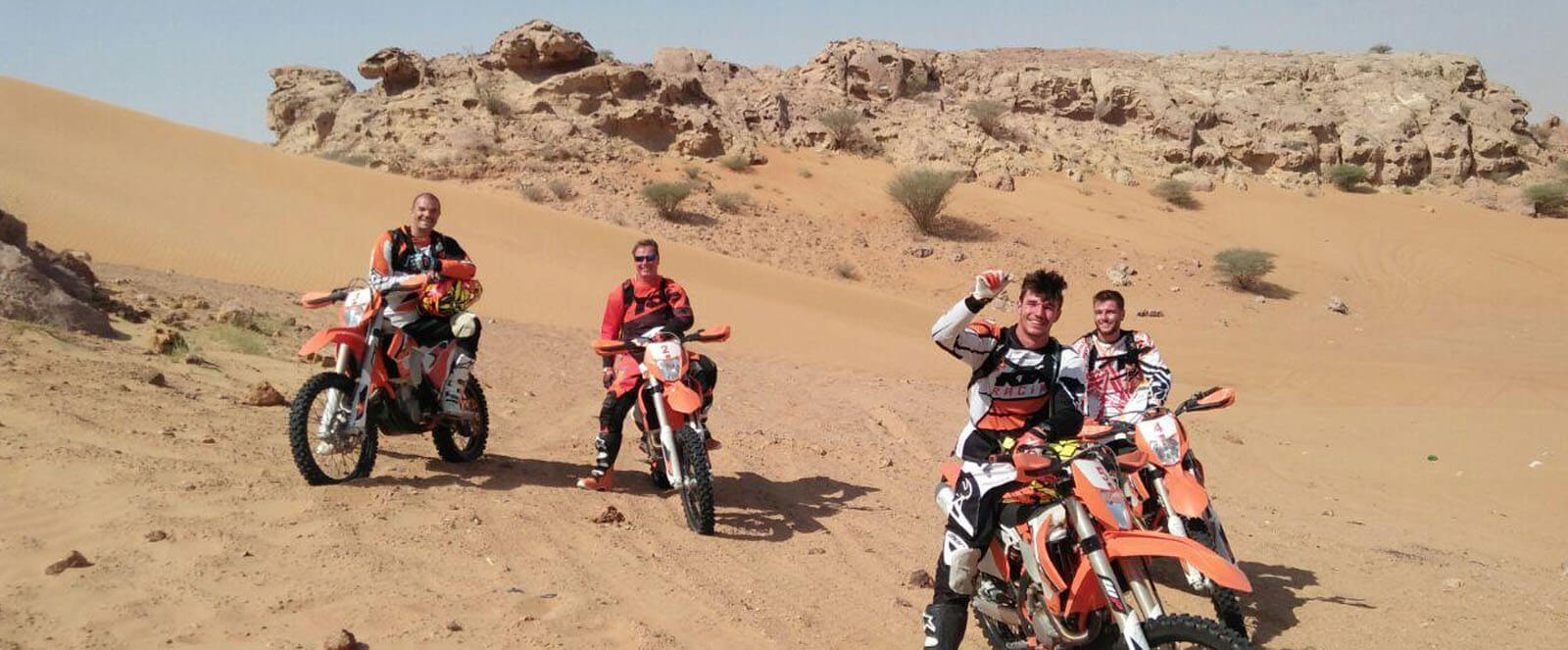 Dirt Bike Adventure – KTM, Husqvarna, and GasGas enduro
| | |
| --- | --- |
| Perfect for: | Motorbike Advanced Riders |
| Duration: | 4,5 hours |
| Requirements: | you must be fit for 4 hours on a Motorbike |
| Extras: | Helmet, Boots, clothes and protection kit are included |
| | |
| Driving License: | Not required for our guided trip |
| Dirt Bike Adventure Motorbike Models: | Latest model KTM 500 EXC /  KTM 450 EXC / Husqvarna 450 / GasGas 450 |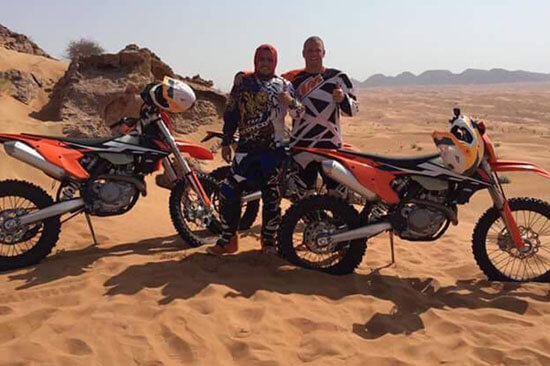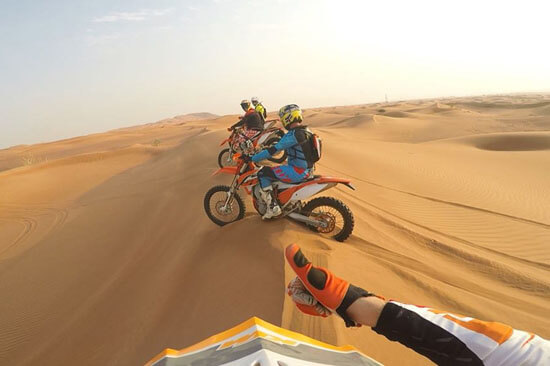 A Desert Expedition in Dubai: Unveiling the Golden Sands
Dubai, a city of towering skyscrapers and modernity, also boasts the enchanting Arabian Desert on its doorstep. A nature expedition in Dubai is an opportunity to escape the urban hustle and experience the serene beauty of the golden sands, made even more thrilling when you add dirt bikes into the mix.
As you rev up your dirt bike and venture into the sand dunes, you'll find yourself immersed in a landscape like no other. The vast, undulating dunes offer an exciting and challenging terrain for off-road enthusiasts. Whether you're an experienced rider or a novice, the desert beckons you to explore its secrets on two wheels.
Guided by expert instructors who know the desert's every contour, you'll navigate through the ever-shifting sands, creating thrilling memories with each twist and turn. The powerful motorcycles are your trusty companions, allowing you to conquer dunes and discover hidden oases that few have had the privilege to see.
One of the most captivating moments of a sand dune expedition on motorbikes is watching the sun set over the dunes. The desert's golden hues take on a magical glow as the day transitions into night, providing a breathtaking backdrop for your adventure.
After a day of adrenaline-fueled rides, you can relax at a traditional Bedouin-style camp, where you'll be treated to authentic Arabian cuisine and mesmerizing cultural performances under the starlit desert sky (check our safari packages).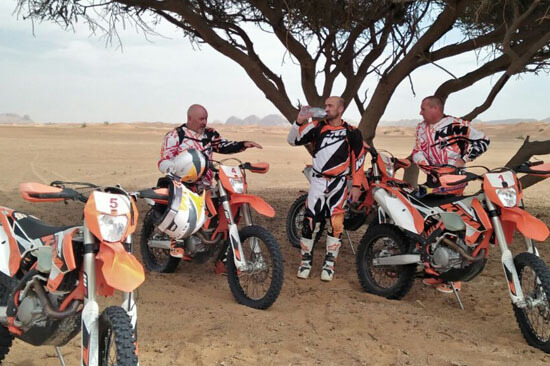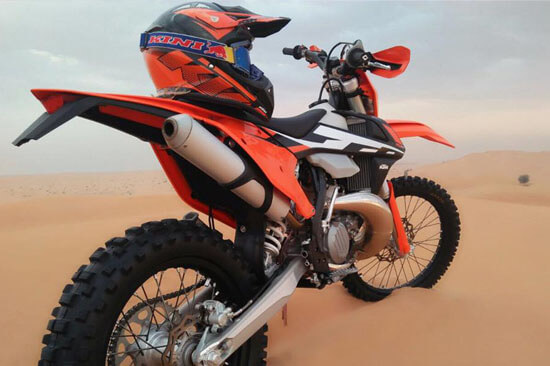 Dirt Bike Adventure Motorcycles: KTM, Husqvarna, and GasGas Enduro Excellence
At our core, we're driven by a passion for off-road adventure, and our commitment to providing the best experience is reflected in our choice of motorcycles. We proudly offer a fleet of top-tier enduro bikes, including KTM, Husqvarna, and GasGas, renowned brands that are synonymous with excellence in off-road riding.
KTM Enduros for the Ultimate Off-Road Adventure: 
Known for their cutting-edge technology and unwavering performance, KTM dirt bikes are a favorite among riders who demand power and precision. With a legacy rooted in championship victories, KTM represents the pinnacle of off-road engineering, making every ride an exhilarating journey.
Husqvarna: Where Heritage Meets Off-Road Excellence:
With a history dating back to 1903, Husqvarna brings a heritage of craftsmanship and innovation to the world of enduro biking. Their bikes are celebrated for their agility and versatility, allowing riders to conquer a wide range of terrain with ease.
GasGas: Defying Limits in Off-Road Dominance:
GasGas is a brand that thrives on pushing the boundaries of off-road riding. Known for their unique character and durability, GasGas enduros are built to withstand the rigors of challenging environments, making them an ideal choice for riders seeking rugged adventures.
Our commitment to excellence extends beyond the choice of motorcycles. We meticulously maintain and upgrade our fleet to ensure that each ride is a seamless blend of power, control, and safety. Whether you're an experienced rider seeking the thrill of the trail or a novice looking to embark on your first off-road adventure, our GasGas, KTM and Husqvarna enduro bikes are here to make your journey unforgettable.
When you ride with us, you're not just experiencing the thrill of off-road adventure; you're also riding with the assurance that our motorbikes, chosen from the very best in the industry, will elevate your experience to new heights. So, gear up, rev that engine, and get ready to conquer the trails with our exceptional motorcycles.