Raptor 700 Quad Bike Ride in Dubai
Embark on an exhilarating off-road adventure in Dubai with the Yamaha Raptor 700cc Quad Bike Ride, where you'll conquer desert dunes and experience the thrill of quad biking in style.
+971551532550
Open Desert Raptor 700cc Quad Bike Ride
Get ready for the "Ride of Your Life!" Want to enjoy the thrill of the machine. Ride your own Raptor 700 bike (ATV) through the sandy terrains, rumble across the sands, roar over rolling dunes, and checking out wildlife and stunning views of Arabian deserts along the way stop for photos of the beautiful desert dunes on route and you have the freedom to ride safely to the conditions and within your ability.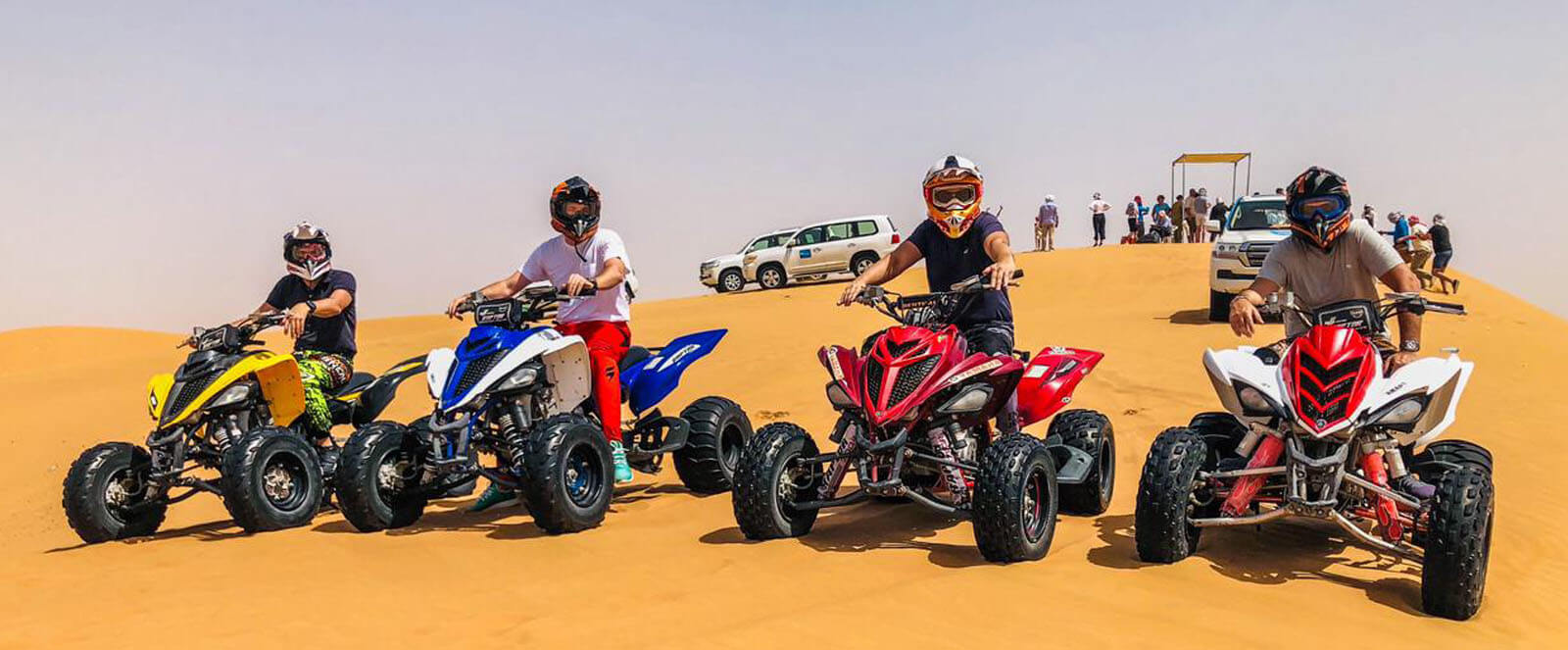 Experience the Ultimate Adventure with Yamaha Raptor 700cc Quad Bike Ride in Dubai
If you're seeking an adrenaline-pumping adventure in the heart of Dubai's desert, look no further than our thrilling 4×4 quad bike ride experience. Dubai's vast and awe-inspiring desert landscape sets the stage for an unforgettable off-road adventure that will leave you craving for more.
Conquer the Desert Dunes with Big Red Adventures
Get ready to experience the thrill of off-road exploration like never before with Big Red Adventures in Dubai. Our exhilarating desert escapades are designed to take you on an unforgettable journey through the mesmerizing sand dunes of UAE.
Unleash Your Inner Adventurer
At RedDune Adventures, we specialize in heart-pounding experiences that put you in command of powerful, all-terrain machines. Our adventure tours promise you the chance to ride the wind, conquer the sands, and immerse yourself in the breathtaking beauty of the desert landscape.
Big Red Dunes Quad Bike Ride Excursions
Our signature Big Red excursions unveil the hidden gems of Dubai's vast desert, where you'll witness awe-inspiring natural wonders and stunning panoramic views. With our guided tours, you'll have the opportunity to navigate through diverse terrains, from towering dunes to tranquil valleys.
Thrilling 4×4 off road Experiences
Prepare to be captivated by the exhilaration of tackling the sandy terrain with our fleet of high-performance vehicles. Our expert guides will lead you on an extraordinary journey, ensuring your safety while you focus on the excitement of the ride.
Awe-Inspiring Sunsets and Starry Nights
Picture yourself atop a sand dune, witnessing the radiant hues of a Dubai desert sunset or stargazing under the clear night sky. Big Red Adventures offers you the chance to create unforgettable memories against the backdrop of nature's beauty.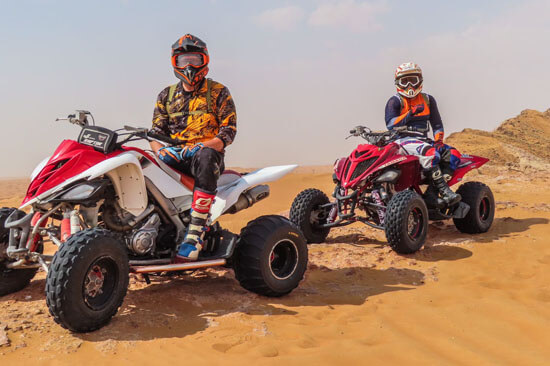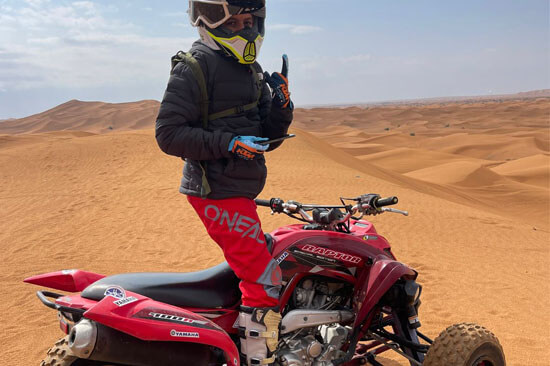 Yamaha Raptor 700cc Rental: Unleash the Beast
For those who crave power and speed, our Yamaha Raptor 700cc Rental option is the perfect choice. This subheading is dedicated to introducing you to the beast that can take your UAE quad biking adventure to the next level.
Why Choose Yamaha Raptor 700cc?
Unmatched Power: This 700cc machine is equipped with a high-performance engine that delivers raw power, allowing you to conquer dunes and rugged terrain effortlessly.
Smooth Handling: Despite its powerful engine, the Raptor 700cc offers exceptional handling, ensuring you maintain control even in the most challenging terrains.
Comfortable Ride: Enjoy a comfortable and exhilarating ride with the Raptor's ergonomic design and suspension system that absorbs shocks, making your adventure a smooth and enjoyable experience.
Reliable and Safe: Yamaha is renowned for its reliability and safety features, ensuring your safety as you explore the UAE desert's captivating beauty.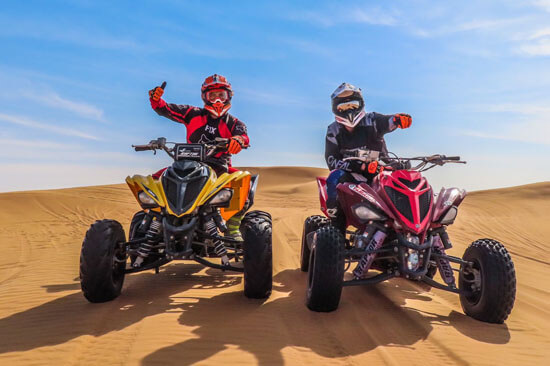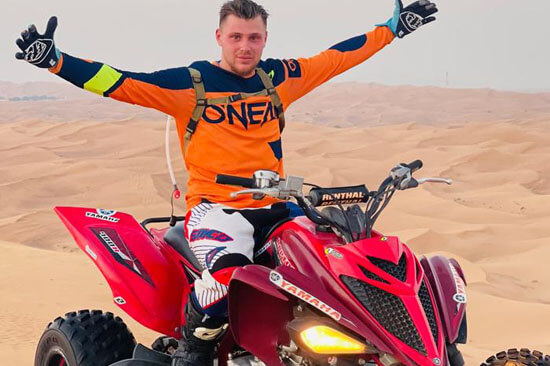 Experience the Thrill of Off-Roading
Whether you're planning an adventure with friends, family, or a solo escape, our Yamaha Raptor rentals provide an opportunity to explore the great outdoors in a whole new way. Zoom through rugged trails, conquer steep climbs, and navigate through diverse terrain, all while experiencing the rush of adrenaline that comes with riding a Yamaha Raptor.
Perfect for All Skill Levels
Our Yamaha Raptor rental services are tailored to accommodate riders of all skill levels. If you're new to off-roading, our experienced staff will provide guidance and safety instructions to ensure a smooth and enjoyable adventure. For seasoned riders, the Raptor's capabilities will push your skills to new heights.
Why Choose Dubai for Quad Biking?
Dubai is a quad biking enthusiast's paradise, offering a perfect blend of breathtaking desert landscapes and world-class facilities. Here's why Dubai is the ultimate destination for your quad biking adventure:
Spectacular Desert Scenery: Explore the mesmerizing sand dunes and witness the stunning sunset views that Dubai's desert has to offer.
Professional Guidance: Our experienced guides will lead you through the sand dunes, ensuring a safe and thrilling experience for both beginners and seasoned riders.
Year-Round Riding: With Dubai's pleasant weather throughout the year, you can enjoy quad biking in any season.
Variety of Terrain: From vast sand dunes to rugged sandy trails, Dubai offers a diverse range of terrains for a truly exciting quad biking experience.
Convenience at Your Doorstep: Our Pick-Up and Drop-Off Service
At Red Dunes, we understand that your travel experience should be as hassle-free and convenient as possible. That's why we offer a top-notch Pick-Up and Drop-Off Service right from the heart of the city. Whether you're arriving or departing, we've got you covered with our seamless transportation solutions.
Arrive in Style and Comfort
When you choose our Pick-Up Service, you'll enjoy the luxury of being picked up from your preferred location within the city. Say goodbye to the stress of navigating through traffic, finding parking, or waiting for public transportation. Our professional drivers will ensure you arrive at your destination in style and comfort.
Effortless Departures
Heading to the airport or another location outside the city? Our Drop-Off Service ensures that your journey begins smoothly. We'll pick you up from your city location and transport you to your destination, allowing you to relax and focus on your trip ahead. Our punctual service ensures you're never rushed, making for a stress-free start to your travels.
Why Choose Our Pick-Up and Drop-Off Service?
Convenience: Our service is designed with your convenience in mind. We pick you up and drop you off at the location of your choice, saving you time and effort.
Professional Drivers: Our drivers are experienced, courteous, and knowledgeable about the city, ensuring a safe and comfortable journey.
Reliability: Count on us to be punctual and dependable. We understand the importance of being on time for your travel commitments.
Comfort: Our vehicles are well-maintained and equipped with modern amenities, ensuring a comfortable and enjoyable ride.
Affordable Rental Rates: Adventure on a Budget
If you've ever dreamed of experiencing the power and excitement of a Yamaha Raptor, you'll be delighted to discover our cost-effective Yamaha Raptor rental rates. At RedDunes, we believe that thrilling adventures shouldn't come with a hefty price tag, making it easier than ever to enjoy off-roading at its finest without breaking the bank.
Quad Bike Ride Cost / Rates
Competitive Pricing: We offer some of the most competitive rates in the industry, ensuring that your off-road adventure fits comfortably within your budget.
Flexible Options: Whether you're planning a short escapade or an extended off-road vacation, we have flexible rental options to suit your needs.
Transparent Pricing: We believe in transparency, so you can trust that the rates you see are the rates you'll pay, with no hidden fees or surprises.
Book Your Quad Bike Ride Trip in Dubai Today
Don't miss out on the adventure of a lifetime. Book your safari tour in Dubai now and discover the exhilaration of exploring the nature on the powerful Yamaha Raptor 700cc. Whether you're an adventure seeker or a nature enthusiast, Dubai's quad biking experience has something for everyone. Get ready to rev up your engine and embark on an adventure like no other!
Whether you seek adrenaline-pumping thrills or the tranquility of the desert, our tailored experiences have something for everyone. Discover the allure of the wilderness with Big Red Adventures – where adventure meets wonder. Book your tour today and prepare for an experience that will leave you breathless.