Enduro Rental Dubai - Enduro Adventure Dubai
Enduro Rental Dubai offers the ultimate off-road adventure in the heart of the desert. Explore Dubai's rugged terrain with our top-of-the-line enduro bikes and experience adrenaline-pumping rides through stunning landscapes with one our latest model KTM / Husqvarna 450cc / GasGas 450cc bikes.
+971551532550
Enduro Rental Dubai (Latest Model Bikes)

Discover the latest model Enduro, engineered for ultimate performance and adventure. Unleash your off-road passion with cutting-edge technology and design.
Whether you're a seasoned rider or a beginner looking for an unforgettable adventure, our adventure tour in Dubai is the perfect choice. Get ready to conquer the dunes and make memories that will last a lifetime.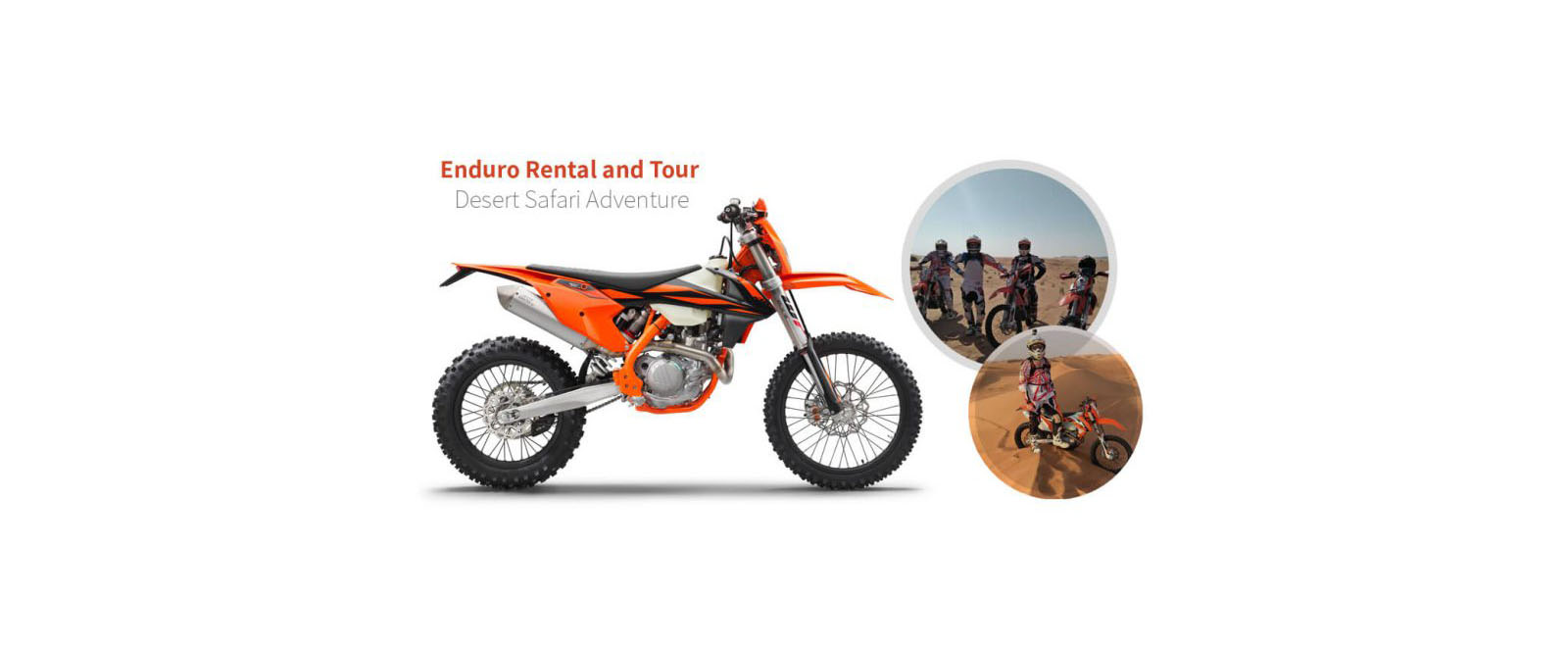 Adventure Motorcycle Guided tour
Embark on the ultimate desert safari tour with our guided motorcycle tours led by expert riders. Discover breathtaking landscapes, tackle challenging terrains, and experience the thrill of the open road like never before. Our seasoned guides will take you on an unforgettable journey, sharing their in-depth knowledge of the route and ensuring your safety every step of the way.
Whether you're a seasoned rider seeking new horizons or a novice looking to embrace the excitement of two-wheeled exploration, our guided tours cater to all levels of experience. From winding mountain roads to rugged off-road trails, our expert riders will lead you through diverse landscapes, creating a one-of-a-kind adventure.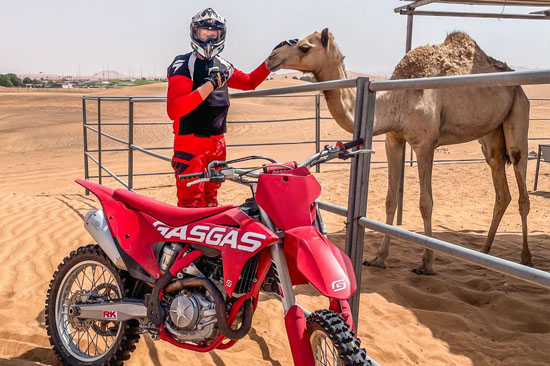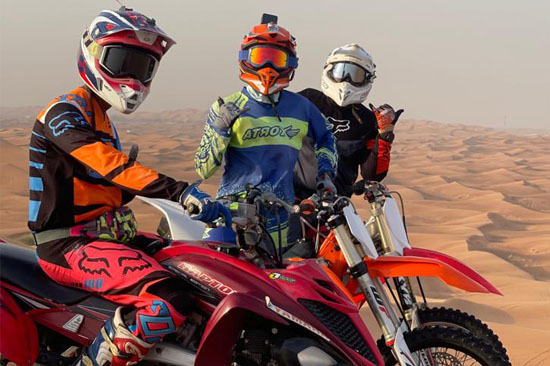 Enduro Rental and Tour Options:
| | |
| --- | --- |
| KTM / Husqvarna 450cc / GasGas 450cc Desert Trip Beginner: | 2 hours Duration |
| KTM / Husqvarna 450cc / GasGas 450cc Desert Tour Advanced: | 4 hours Duration |
| Custom Motorcycle Tour | Click here |
| Perfect for: | Riders who have off road motorbike ride experience |
| Adventure excursion: | for male / female |
| Requirements: | You must be able to use clutch, gears and throttle |
| Included: | Helmet, Boots, clothes and protection kit |
| Latest Model Enduro Rental: | 2022-2023  KTM 500cc EXC / KTM 450cc EXC / Husqvarna 450cc / GasGas 450cc |
| Driving License: | Not required in our guided desert tours |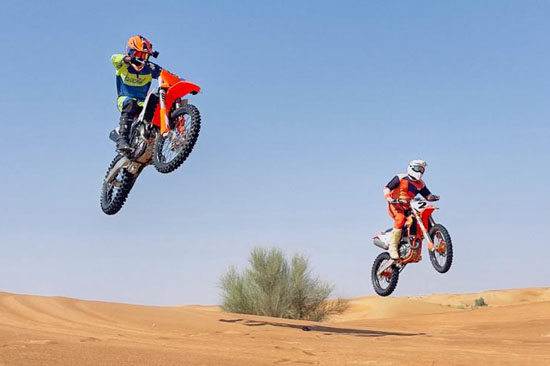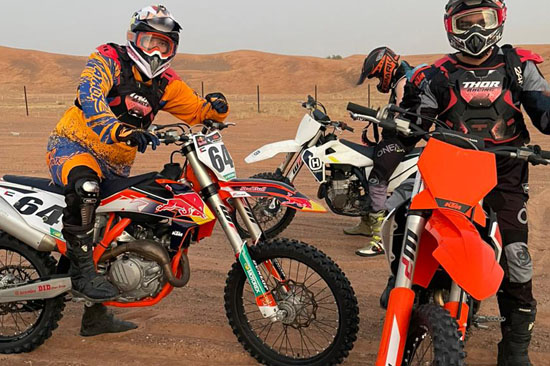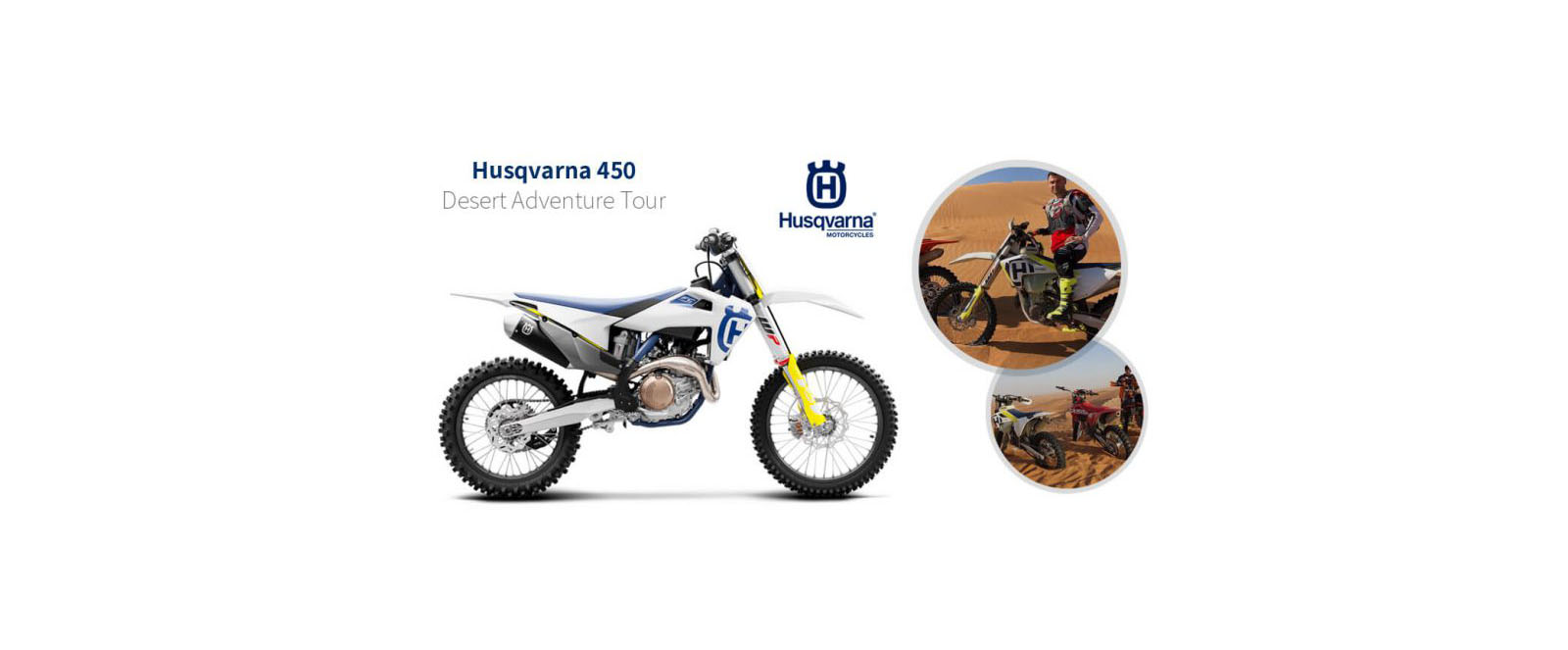 Enduro Rental For Adventure Desert Ride in Dubai
Journey into the heart of this captivating desert terrain for an adventure that promises thrills and awe-inspiring landscapes. Located in the heart of the Middle East, this unique destination offers an exhilarating escape from the ordinary.
As you explore the undulating sands and rugged landscapes, you'll find yourself immersed in an experience like no other. The vast expanse of golden dunes stretches as far as the eye can see, inviting you to conquer its challenges and savor its natural beauty.
Our motorcycle tour packages provide an opportunity for both novice and seasoned adventurers to revel in the excitement. With experienced guides and top-notch equipment, you can navigate the terrain confidently, tackling steep dunes and enjoying the freedom of the open desert.
The ever-changing play of light and shadow across the landscape creates a picturesque backdrop for unforgettable moments. Whether you're capturing the perfect sunset photo or simply relishing the serenity of the desert, this adventure promises memories that will stay with you forever.
So, prepare to embark on an extraordinary journey into the heart of the Dubai's wilderness, where each dune becomes a canvas for your tour and every moment is a chapter in your own unique story.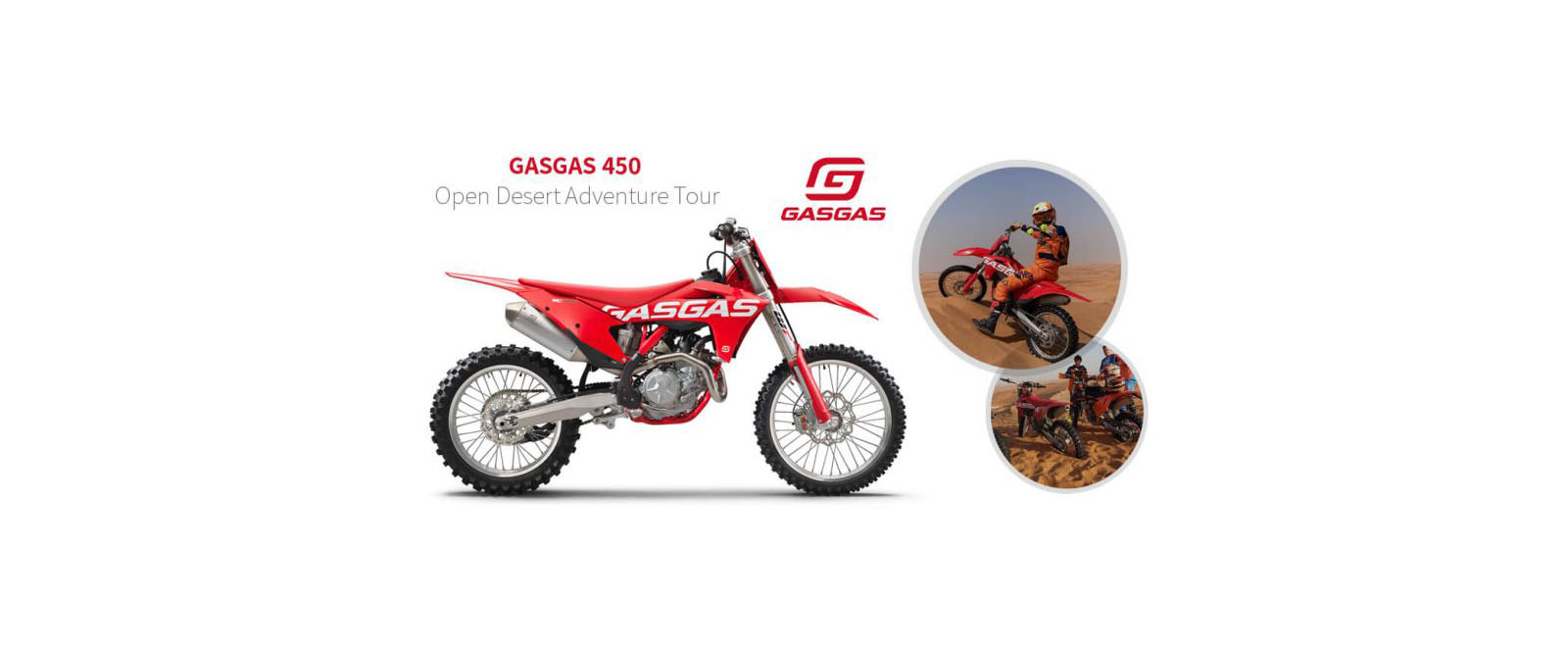 Embrace the Unconventional: Unearth Unforgettable Enduro Experiences in Dubai
Big Red Dunes Desert Tour
Experience the exhilarating Big Red Dunes Tour, a thrilling adventure that takes you deep into the heart of the majestic sand dunes. This tour offers a unique opportunity to explore the breathtaking landscapes and conquer the towering sand dunes. With expert guides and top-notch equipment, you can confidently navigate the challenging terrain.
As you traverse the ever-shifting sands, you'll be captivated by the stunning vistas and the sheer thrill of the journey. The towering dunes create a dramatic backdrop, and the soft, golden sands provide an exciting playground for your desert tour.
Whether you're an adrenaline seeker or simply seeking a memorable escape into nature, the Big Red Dunes Tour promises an unforgettable experience. Capture the magic of the desert with incredible photographs, bask in the tranquility of the vast expanse, and make memories that will last a lifetime.
Join us for this remarkable off road sand dune trip and discover the beauty and excitement of the Red Dunes like never before.
Enduro Rental in Dubai – Our Latest Motorcycle Models
Our latest Enduro bike models feature cutting-edge technology and design, representing the pinnacle of off-road performance. From the legendary power of KTM to the Scandinavian precision of Husqvarna and the Spanish innovation of GasGas, we offer a diverse range of options to suit every rider's preference.
KTM's bikes are known for their race-ready prowess, combining lightweight agility with robust powertrains. Meanwhile, Husqvarna brings its heritage of craftsmanship and innovation to the table, delivering bikes that excel in both performance and aesthetics. GasGas, on the other hand, introduces a fresh perspective with unique engineering solutions that cater to the modern adventurer.
These brands, each with its distinctive character, ensure that our latest motorbikes models cater to the needs of riders seeking excitement, reliability, and precision on any trail. Explore our lineup and elevate your off-road riding experience with the best that KTM, Husqvarna, and GasGas have to offer.