Quad Bike ATV Bike Safari & Rental: Red Dunes Desert Safari Dubai
Experience the heart-pounding excitement of a Quad Bike ATV Safari in Dubai's breathtaking desert landscapes. Explore the great outdoors and go off-road with our quad bike rental services.
+971551532550
Quad Bike ATV Safari Tour Adventure Dubai
Join us for the quad experience of a lifetime! Drive through the ever changing dunes; weave through the trackless desert, tackling both low and high dunes. Stop for a breather and soft refreshments before you set off again. This adventure safari is suited to the discerning outdoor adventure enthusiast and nature lover.
Venturing into the heart of the desert, a Quad Bike ATV Bike Safari in Dubai offers an unforgettable experience that's synonymous with adventure. And when it comes to desert adventures, the "Big Red Dunes" are a highlight not to be missed.
The Big Red Dunes, aptly named for their towering, fiery-red sands, provide the perfect playground for thrill-seekers. As you rev up your quad bike and ascend these colossal dunes, you'll be met with a sense of exhilaration that's hard to match. The feeling of conquering these massive natural formations as you navigate the steep slopes and intricate ridges is nothing short of awe-inspiring.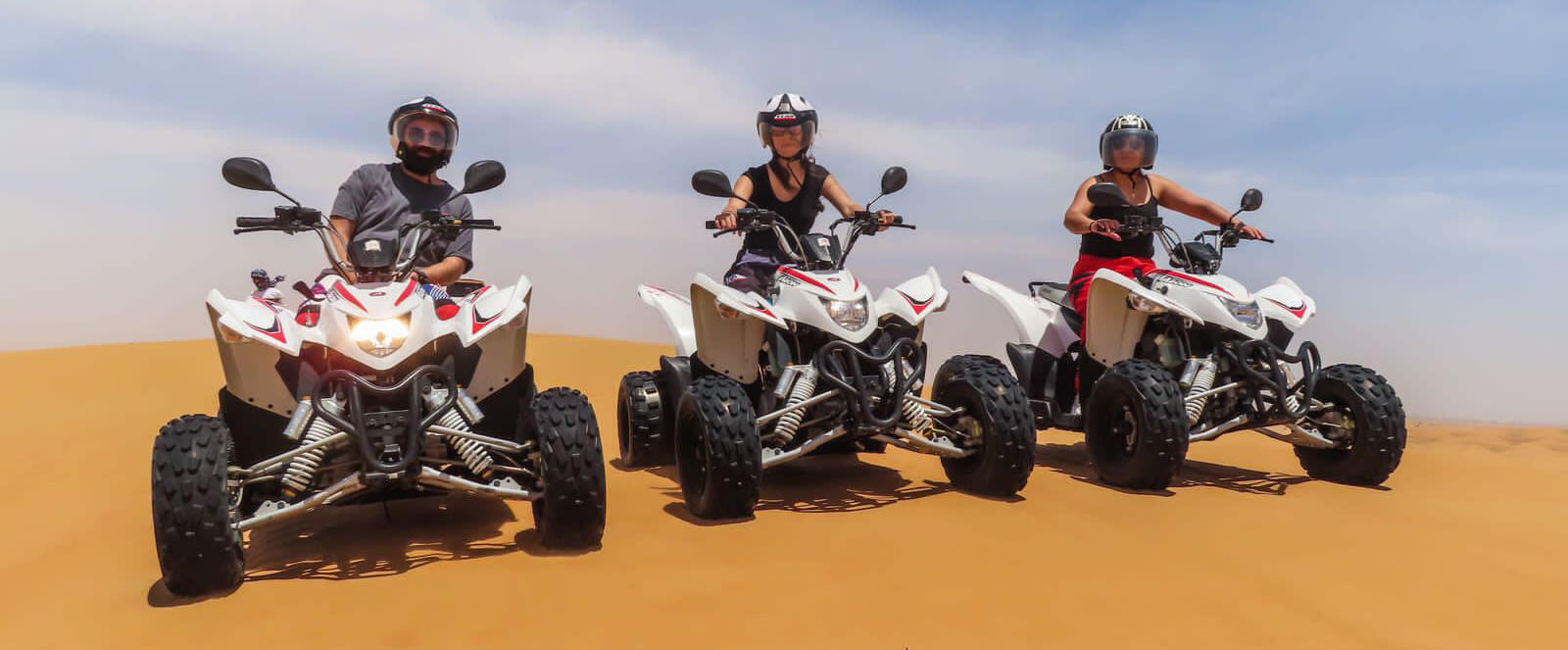 Quad Bike ATV Guided Safari Tour
Guided by seasoned professionals who know the terrain intimately, you'll explore the desert's hidden treasures while learning about its unique ecosystem and perhaps even catching a glimpse of the local wildlife.
One of the most magical moments of this safari is experiencing the stunning vistas during sunset. The Big Red Dunes take on a mesmerizing hue as the sun dips below the horizon, casting a golden glow across the landscape—a sight that will leave you breathless.
Whether you're an experienced rider or a beginner, the Quad / ATV Safari is designed to accommodate all levels of expertise, ensuring a safe and enjoyable adventure for everyone. It's an adrenaline-pumping escapade that promises memories of conquering the Big Red Dunes, all set against the backdrop of Dubai's pristine desert beauty. This safari is not just an adventure; it's an exploration of the extraordinary.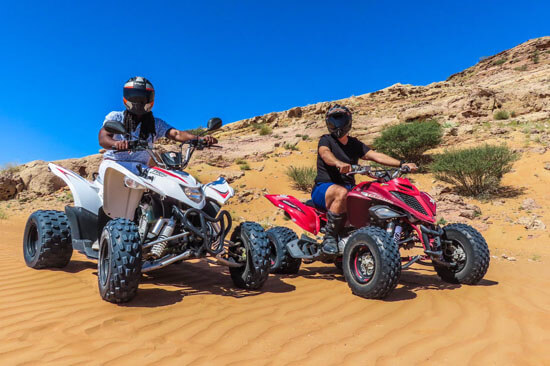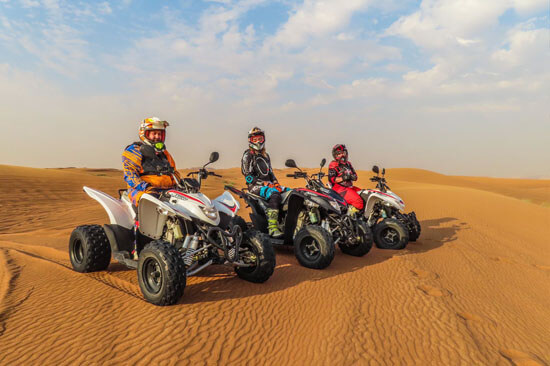 Unleash Your Adventurous Spirit
Dubai Desert Safari adventures are renowned worldwide, and one of the most thrilling ways to explore the mesmerizing dunes is on a two-wheeled marvel. This exhilarating experience, suitable for all ages and skill levels, combines adrenaline-pumping action with the stunning natural beauty of the sandy terrains. Let's dive into what makes a Dubai Desert Safari on these incredible machines a must-try experience.
Unmatched Desert Beauty
Dubai's desert landscape is a true wonder, featuring vast expanses of golden sand dunes that stretch as far as the eye can see. It's a picturesque canvas waiting to be explored. With every twist and turn, you'll be greeted by awe-inspiring vistas, making every moment memorable. It's the perfect backdrop for an unforgettable safari experience.
An Adventure for Everyone
Whether you're a seasoned rider or a complete beginner, this safari is designed to accommodate all levels of expertise. Expert instructors provide guidance, ensuring your safety and helping you navigate the challenging terrain. You can enjoy this thrilling ride with family and friends, as it's an activity that brings loved ones closer through shared excitement.
Adrenaline and Fun
Roaring through the dunes, you'll feel the rush of adrenaline as your bike conquers steep slopes and sandy trails. The sense of freedom and the wind in your hair create an unmatched feeling of exhilaration. It's not just an adventure; it's a whole lot of fun! You'll create lasting memories and share laughs with your fellow adventurers.
The Magic of Sunset
As the day draws to a close, there's a magical moment waiting for you. Sunset in the Dubai Desert is a sight to behold. The shifting hues of the dunes, bathed in the warm, golden light, create a mesmerizing spectacle. It's a perfect ending to an already enchanting experience.
An Adventure of a Lifetime
A Dubai Desert Safari on two wheels is not just a ride; it's an exploration of the extraordinary. It's a chance to bond with family and friends, to challenge your limits, and to be captivated by the desert's natural beauty. So, gear up for a day filled with fun, adventure, and unforgettable memories in the UAE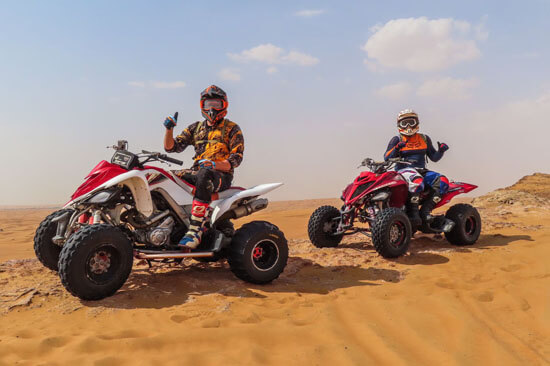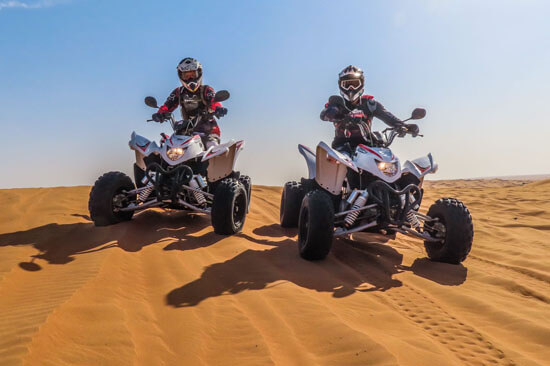 Quad Bike ATV Rental Options
Looking for an unforgettable outdoor adventure in Dubai? We offer you an exhilarating experience like no other. Nestled amidst the awe-inspiring desert landscape, Dubai provides the perfect backdrop for an adrenaline-pumping escapade.
Why Choose RedDunes Quad Bike ATV Rental in Dubai?
Unparalleled Thrills: With its vast dunes and challenging terrains, remote locations are a paradise for thrill-seekers. Renting an ATV allows you to conquer these sandy giants and experience the rush of off-roading.
Access to Hidden Gems: UAE's deserts hold hidden treasures waiting to be explored. ATV rentals open up remote and stunning locations that are otherwise inaccessible.
Suitable for All: Whether you're a seasoned rider or a newbie, there are ATV options to match your skill level. From powerful machines for the pros to user-friendly models for beginners, there's something for everyone.
Guided Tours: We only offer guided off road tours, ensuring you make the most of your adventure while staying safe and informed about the surroundings.
Group Adventures: Perfect for group outings, making them an ideal choice for families, friends, and corporate team-building activities.
Pick up Drop off Service
Additionally, for your convenience, we offer a convenient pick-up and drop-off service. Let us know your location, and we'll arrange transportation to and from the location site, so you can focus on enjoying the ride without any transportation worries. Call us or send us a message via WhatsApp to inquire about our pick-up and drop-off service options.
Prepare for Your Adventure:
Before embarking on your Dubai ATV adventure, remember to:
Dress appropriately for the sandy environment, wearing comfortable and breathable clothing.
Stay hydrated and protect yourself from the sun with sunscreen and sunglasses.
Follow the safety guidelines provided by the rental service and your tour guide.
So, whether you're an adrenaline junkie, a nature enthusiast, or just looking for a unique experience, ATV rentals in Dubai promise an adventure of a lifetime. Book your ATVs / Quads today and get ready to conquer the UAE's deserts like never before."
After being briefed on the rules of off-road driving and issued with your safety gear, take control of your fully automatic quad bike. Feel the adrenaline rush as the guide leads you through the challenging, sand dunes.
NOTES:
The Minimum age for driving is 14 yrs.
Helmet and goggles provided.
Tailor made packages can be arranged for larger groups by offering additional activities.
Booking your ATV adventure is quick and easy. To reserve your spot and experience the thrill of riding through Dubai's desert, simply call us or send us a message via WhatsApp. Our friendly team is here to assist you every step of the way, ensuring your adventure is unforgettable.