KTM Adventure Tour Beginners - Dirt Bike Desert Safari Dubai
KTM  Enduro Adventure Tour Beginners provides an ideal introduction to off-road riding, allowing newcomers to explore the world of adventure biking in a safe and supportive environment.
+971551532550
KTM Adventure Tour for Beginners | Desert Bike Ride Dubai
Explore the rugged beauty of off-road terrain like never before with the exhilarating KTM Dirt Bike Tour. This adrenaline-fueled adventure promises an unforgettable experience for avid riders and adventure enthusiasts alike.
This off road safari trip takes you on a thrilling journey through some of the most picturesque and challenging landscapes nature has to offer. Whether you're a seasoned rider or a beginner looking to hone your off-road skills, this tour caters to riders of all levels.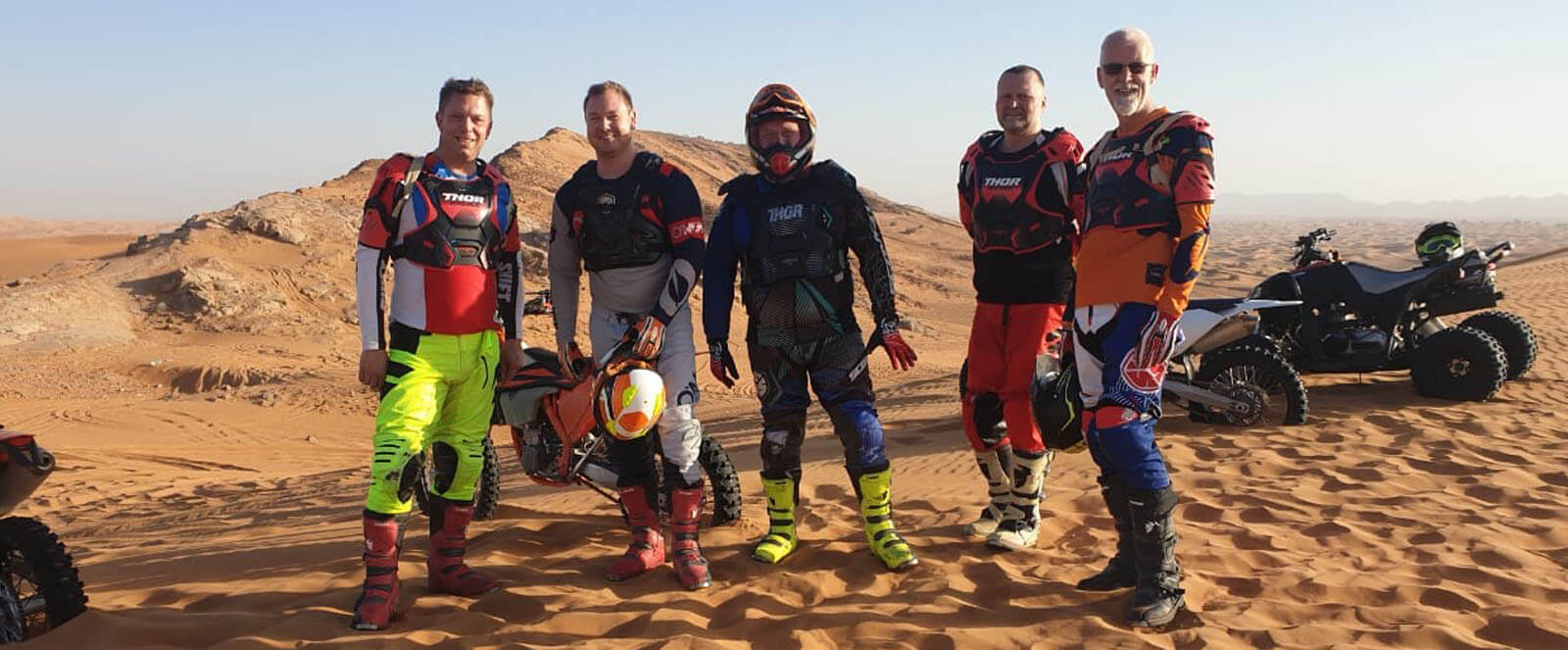 KTM Adventure Tour
| | |
| --- | --- |
| Perfect for: | Motorbike Beginners |
| Duration: | 2,5 hours |
| Requirements: | you must be able to use clutch, gears and throttle |
| Extras: | Helmet, Boots, clothes and protection kit are included |
| | |
| Driving License: | Not required for our guided trips |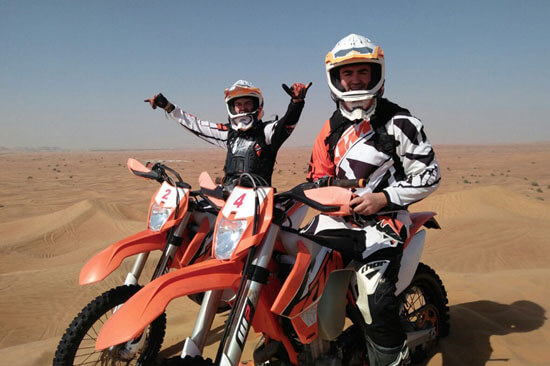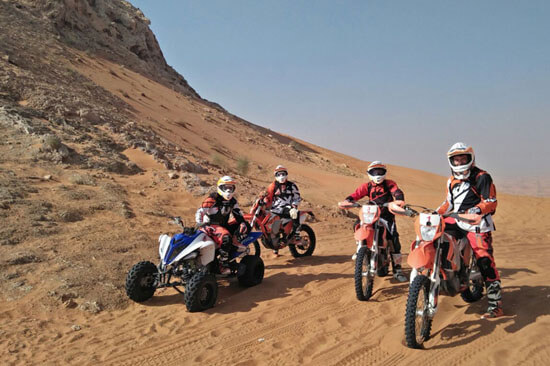 Unleash the Wild: KTM Adventure Tour Expeditions
These meticulously crafted tours are designed to immerse you in the heart of nature's playground. Traverse through untamed forests, conquer rocky trails, and navigate the twists and turns of mountainous terrain. All while enjoying the power and precision of KTM's cutting-edge dirt bikes.
Guided by experienced instructors, you'll receive expert training and guidance to ensure your safety and maximize your riding potential. You'll also have the chance to test your mettle on a variety of terrain, from challenging hill climbs to thrilling descents, with each moment bringing a new rush of excitement.
Unearth the Magic of the Desert with KTM's Guided Novice Adventure
What sets this off road KTM Adventure Tour apart is the opportunity to forge lasting memories while discovering hidden gems off the beaten path. These trips often include visits to remote villages, encounters with local cultures, and breathtaking viewpoints that will leave you in awe. It's not just a dirt bike adventure; it's a cultural and natural immersion like no other.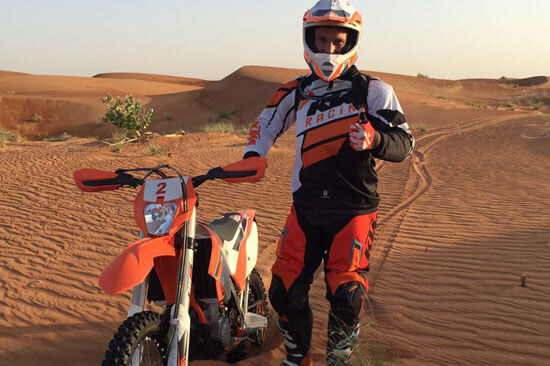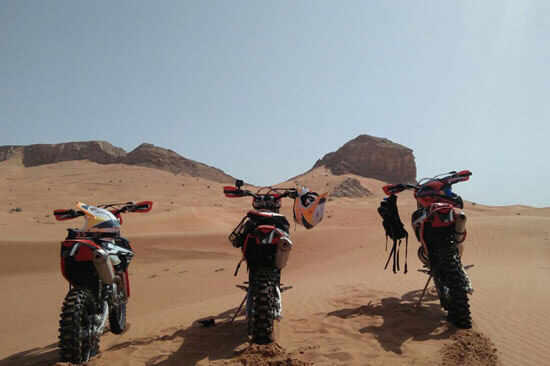 Off-Road Escapades: KTM's Thrilling Trailblazing Experience
The tour's flexibility allows you to choose from a range of itineraries, catering to your preferences and skill level. Whether you're seeking a one-day adrenaline rush or a multi-day expedition, the KTM Adventure Tour can accommodate your desires. We provide you all the necessary equipment, so you can focus on the thrill of the ride without worrying about riding gears.
Dirt Bike Tour is the ultimate way to experience the great outdoors, push your riding limits, and create cherished memories in the process. So, if you're ready to embark on a thrilling KTM adventure tour that combines the power of these bikes with the beauty of the natural world, don't miss the opportunity to join this incredible journey. It's time to rev up your passion for off-road riding and explore the world like never before.
2 Hours KTM Desert Bike Ride Dubai
Experience the thrill of a 2-hour KTM Desert Bike Ride in Dubai with us. If you're new to off-road riding or conquering the sand, our company is here to provide you with top-notch dirt bike rental services in Dubai. While a basic understanding of bike operations, including Clutch, Gears, and Throttle, is required, our highly-experienced instructors will guide you through the process during your adventure.
This experience promises excitement and the chance to acquire new skills. Throughout the training, you'll not only gain valuable riding insights but also enjoy the exhilaration of navigating the finest dirt bikes in Dubai. At our company, we extend a warm welcome to both men and women, offering lessons in desert motorbike riding.
Riding in the Sand Dunes

Safety is paramount at Red Dunes Dubai, and we take every precaution to ensure your well-being. Our riders are equipped with state-of-the-art safety gear that covers you from head to toe:
Our helmets are designed to be shatterproof, eliminating the risk of glass breakage during a fall, thus safeguarding the rider's head.
These helmets also provide jaw protection, reducing the risk of injury in case of a face-down fall on the smooth sand.
Body protection includes a sturdy shell that shields vulnerable collarbones in the event of an accident.
Specially designed hard plastic knee guards protect the legs, and our motocross boots are crafted from thick, heavy leather.
While arm protection is slightly less restrictive to allow freedom of movement, it still offers essential protection for a safe and enjoyable ride.
Join us for an unforgettable KTM Desert Bike Ride and experience the thrill of off-road riding in the stunning Dubai desert, all while ensuring your safety and confidence throughout the adventure.
Our Motorcycles
Our motorcycles are a testament to the commitment we have towards providing our customers with top-notch quality and performance. Each of our bikes is meticulously maintained to ensure they are in excellent condition, setting them apart from the rest.
We take great pride in the care and attention we give to our motorcycles. Regular servicing and inspections are a fundamental part of our maintenance routine, guaranteeing that every component functions flawlessly. From the engine's inner workings to the exterior aesthetics, our motorcycles are always in prime condition.
Safety
Safety is paramount, and our motorcycles undergo rigorous safety checks to meet the highest standards. We want our riders to feel confident and secure, knowing that they are on a machine that has been thoroughly inspected and deemed roadworthy.
Not only are our motorcycles in excellent condition, but they also boast the latest in technological advancements and design innovations. We are constantly updating our fleet to offer our customers the most modern and exciting riding experience possible.
Whether you're an experienced rider seeking the thrill of the open road or a newcomer looking for a reliable and safe ride? Our motorcycles are ready to deliver an exceptional experience. With us, you can be sure that every ride is a journey filled with excitement, reliability, and the assurance of excellent condition.